Winter Storm Niko NYC 2017: MTA's latest updates, expected snow totals and more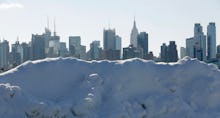 If you live in New York City, you woke up to nasty winter weather Thursday morning. Winter Storm Niko is upon us, bringing estimated snowfall rates of over an inch per hour, the Weather Channel reports.
"Stay safe this morning, New York City," Mayor Bill de Blasio tweeted Thursday morning. "This is a serious storm. Allow extra time on your commute. Use public transportation if possible."
Expected snow totals
The city is expected to get six to 10 inches of snow on Thursday — a stark change to this otherwise fairly snowless winter. Central Park, according to the Weather Channel, hasn't seen a cover of snow since Jan. 15.
Public transportation in the blizzard
The MTA implemented its Cold Weather Plan in advance of the snowfall. On Wednesday, it said it was canceling scheduled overnight work and planning to deploy deicers when snow started to fall.
As for making your travel plans? You can stay up-to-date on the latest service changes by checking the MTA's website. The MTA also has a Twitter account dedicated to subway news and service changes.
At 6:48 a.m., that Twitter account announced there were no 6 express trains running in the Bronx. 
Those entering the city via Long Island Rail Road may also be affected by the storm. A number of trains are running late due to weather conditions, according to the LIRR's Twitter account. 
According to the MTA's website, LIRR delays and cancellations may occur "depending upon the severity of the snow storm and its impact on our service territory."
New Jersey Transit has been affected by the storm, too. Passengers can check N.J. Transit's Twitter account for updates, or even sign up for email alerts.
NYC schools are closed
De Blasio announced Wednesday night that all New York City public schools would be closed on Thursday.