L'Oreal brings on a male spokesmodel, Jake-Jamie, to launch new concealer palette and foundation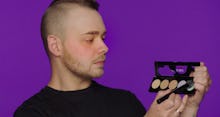 The makeup industry is having a revolution. 
First, it happened in the United States with James Charles being named CoverGirl's first CoverBoy and Manny Mua working with Maybelline as their first ever male campaign star. 
Now the movement to prove that makeup isn't for one gender only has spread across the pond to the United Kingdom, where men are now starring in makeup advertisements as well. Less than two week ago, Lewys Ball became Rimmel London's first male spokesperson. And now L'Oreal is stepping up, bringing on English vlogger Jake-Jamie Ward, who has more than 16,000 subscribers on YouTube and 13,000 followers on Instagram, to launch brand-new products. 
For Ward, who's known online as the Beauty Boy, it all really makes sense. One year ago, he started his online campaign #MakeupIsGenderless to prove to everyone that makeup isn't for just one part of the world's population, and it went viral. 
That's apparently what drew L'Oreal to him a few months ago. 
"L'Oreal approached me after being impressed with my efforts to prove #MakeupIsGenderless. We went for coffee, hit it off straight away and the rest was history!" Ward said in an interview. "The team at L'Oreal are amazing, they are so lovely. I was welcomed with open arms. I can't thank them enough." 
Ward's partnership with L'Oreal includes him launching two new products — a concealer palette and foundation — which is a bit like coming full circle for him: His first foray into makeup was when he was 19 years old and in need of a concealer to cover up some acne. 
Starting later this month, boys will have the opportunity to walk into major U.K. beauty retailers Superdrug and Boots looking for the same thing, and instead of seeing images of just women, they'll see pictures of him. 
In January, L'Oreal named the first male spokesmodel in the U.S., Darnell Bernard, who appeared in a L'Oreal commercial alongside a slew of other diverse models. 
Ward — and the U.K. — is following closely in L'Oreal U.S.'s footsteps, with Ward in a campaign for this new foundation alongside U.K. stars like X Factor's Louisa Johnson. 
As far as why this wave of male spokesmodels for makeup companies is happening now, Ward credits the increased visibility of male makeup aficionados. 
"I think this progress has come from male influencers like myself, James Charles, Manny and many other amazing male artists raising awareness and bringing what was an issue to the forefront of people's minds," Ward said. "I think this is just the start and that it will become more mainstream. Awareness is the key. I think we'll look back in five years and say, 'I can't believe that was ever an issue.'"
Come to think of it, we can't either.