'Arrow' Season 5, Episode 13 Preview: Synopsis, promo and spoilers for "Spectre of the Gun"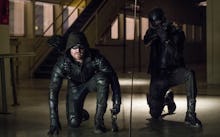 Wednesday night's Arrow continued the series' return to form via an extremely enjoyable fifth season. "Bratva" saw Oliver and the rest of Team Arrow (including the new Black Canary) traveling to Russia to prevent a nuclear arms deal orchestrated by fugitive from justice General Walker. 
Season five, episode 12 also welcomed back Deputy Mayor Quentin Lance, following his brief stint in rehab. With Lance having returned to the show, Thea Queen remains the only regular character who has not appeared in several weeks. It is unclear at this point whether she will return in episode 13, titled "Spectre of the Gun" (actress Willa Holland is listed in the credits, but that may not make a difference considering she is a main cast member).
"Spectre of the Gun" appears to be an episode that will focus on one of Team Arrow's young recruits — specifically Rene Ramirez, aka Wild Dog. We know a little bit about Wild Dog — he was dishonorably discharged from the Navy, was once caught tagging a building by Detective Lance and can be a bit of a hothead — but we do not know the exact circumstances that turned him into a hockey mask-wearing vigilante. That will soon change.
The official synopsis for season five, episode 13, "Spectre of the Gun," via Den of Geek!, illustrates that it will be a very Wild Dog-centric episode of Arrow. Check out the synopsis below:
A traumatic attack on City Hall triggers painful memories for Rene (Rick Gonzalez) about his family. Flashbacks reveal how Rene went from simple family man to a hero named Wild Dog. Meanwhile, Oliver (Stephen Amell) must deal with the perpetrator behind the attack and realizes the best way to do so is as Mayor Queen instead of the Green Arrow. Tensions run high in the Arrow bunker.
You can check out the extended promo for "Spectre of the Gun" below:
Season five, episode 13 of Arrow airs on Wednesday, Feb. 15 at 8 p.m. Eastern on the CW.
Mic has ongoing coverage of Arrow. Please follow our main Arrow hub here.