'RuPaul's Drag Race' Season 9: Who will win? An early ranking of the 13 queens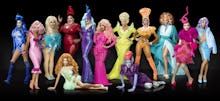 In the wake of RuPaul's Drag Race announcing its new, full cast of queens, the natural question, before we see so much as a trailer for the new season, is this: Who the hell is gonna win this thing?
Season nine doesn't premiere until March, but I've gone through the lineup of queens over and over and am ready to offer up some absurdly early predictions. Take these not as gospel, but as an educated guess; while the top queens and bottom queens are clear, there's a vast middle that could go several different ways. And of course, a queen's off-show work is no guarantee of how they'll do in RuPaul's thunderdome.
That said, here are my earliest guesses as to how the queens will perform this season, starting from the first eliminated.
13. Trinity Taylor
The most memorable thing about Trinity's Meet the Queens introduction video is her southern drawl. Unfortunately, someone's gotta go first, and she seems like the obvious pick this season.
12. Peppermint
While Drag Race has featured transgender queens in previous seasons, they were either not out from the start, like Sonique and Monica Beverly Hillz, or the show didn't mention that they were trans at all, like Stacy Layne Matthews. Peppermint is out right out of the gate, mentioning being trans in her Meet the Queens.
Unfortunately, though, she's not quite the right fit for this show. Peppermint is a talented queen, one who sings live and presents strong looks. But she's seemingly not competing at the same personality level as the others. That's no knock on her as a queen; Drag Race just requires and rewards specific traits.
11. Jaymes Mansfield
Like Peppermint, Jaymes Mansfield is clearly skilled, and she knows her queer history. But also like Peppermint, this doesn't seem like her gig. Production company World of Wonder should keep her in mind; as a YouTuber, she's a star.
10. Charlie Hides
I couldn't really decide what to do with Charlie. She's an older queen (at 52, the oldest ever on Drag Race), which tends to mean early elimination. But she's also incredibly polished and has a ton of charm. While I've ranked her in the middle, I think it's more likely that she either goes all the way or is an early out. Consider her placement here an average of those two.
9. Eureka O'Hara
In 10 seasons of RuPaul's Drag Race and its All Stars counterpart, a big girl has never won the whole competition. Latrice Royale couldn't do it. Neither could Delta Work, Stacy Layne Matthews or Ginger Minj. It'd be a delight if Eureka O'Hara could break the streak. But this doesn't seem like the year.
8. Farrah Moan
It's somewhat reductive to compare queen-to-queen; sure, there are shared attributes between queens like Aja and Naomi Smalls, but Aja can lip-sync the house down in a way Naomi can't, while Naomi has a supermodel vibe Aja doesn't. But minus an Australian accent, it's hard to tell Farrah Moan apart from Courtney Act.
Farrah and Courtney are both fishy girls — queens who appear conventionally and strikingly female. They're also both performers, though Farrah is a Las Vegas girl (making her more akin to last season's Derrick Barry). Farrah's goal this season will be to prove that she is more than Courtney 2.0.
7. Alexis Michelle
Part of me thinks Alexis could be an early out, but I think she's got the performance skills to last for a while. Later seasons of Drag Race have leaned heavily on acting and comedy challenges, which Alexis should ace. But a lot of her success is going to be dependent on how her personality plays with the rest of the girls'.
6. Kimora Blac
Every season of RuPaul's Drag Race needs a long-lasting villain to spice things up. Phi Phi O'Hara. Roxxxy Andrews. Ginger Minj. Phi Phi again. Considering almost her entire Meet the Queens was spent talking about how hot she thinks she is — both in and out of drag — I'm betting we've found our villain.
5. Nina Bo'nina Brown
Nina is wild! Nina is simultaneously here and not here to play! Nina showed up to the promo shoot in full video game character makeup, with purple skin and gills. She is all over the place. She could win this whole thing or be the first out. I'm inclined to believe in her — and in Ru's faith in her — which makes me think she'll go quite far.
4. Aja
I worry about Aja's performance in the competition. She's a Young Queen, which is both a comment on her age — 22 — and her aesthetic: big lips and stoner voice. That has served queens like Pearl and Naomi Smalls well, as they both made it to the top three, but they usually underwhelm for a significant stretch of challenges before hitting their stride — if they do at all.
Luckily, even if Aja can't turn it out for the performance challenges, she has a secret weapon: She's a fierce lip-syncer. If she has to lip sync for her life, she'll almost certainly survive. So we'll guess that she goes home at top four, when the lip sync doesn't really matter.
3. Valentina
Drag Race has had a latter-day problem with Latina queens. Before, contestants like Nina Flowers, Alexis Mateo and Jessica Wild could make it to the final stretches of the competition easily. But recent contestants like Kandy Ho, April Carrión and Cynthia Lee Fontaine have failed to crack the top seven.
But Valentina looks like she has a real shot of going the distance. She's polished and well-spoken, with a real understanding of her look beyond "glamour." Plus, she can lip sync the house down. Bet on her to make it far.
2. Shea Couleé
Shea has perhaps the strongest aesthetic of any queen this season, with the performance ability to back it up. There's always a girl with creative, shocking looks who makes it far in the competition — think Kim Chi in season eight, or Detox in All Stars season two. Shea is likely that queen this time around.
1. Sasha Velour
Sasha Velour is, to put it bluntly, my shit. Bitch has flawless fashion sense, a friendly-but-regal demeanor and a high-minded understanding of her work. Her Meet the Queens video, in which she talks about drag as "the art of the queer imagination," is catnip to a fan of this series. She's incredibly intelligent, recalling queens who lead with their smarts like Detox and season eight winner Bob the Drag Queen.
It's possible Sasha will fall apart on a comedy challenge, but if she can make it through those, she's golden.