7 women-directed movies the Oscars should consider next year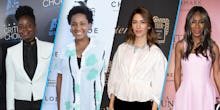 Somehow, in 89 years of the Oscars, the Academy of Motion Picture Arts and Sciences has only seen fit to nominate women for their best director prize four times. They've only actually handed a woman the trophy once.
Now, you could say this is about the number of directing opportunities there are for women in Hollywood, and you would be right. There aren't enough. But the few movies directed by women get, almost by rote, overlooked by academy voters. (Remember when Ava Duvernay couldn't get nominated for Selma?)
To help them, we've selected seven upcoming films with very real Oscar chances, in the top races or down in the technical categories. That way, voters who argue that there just aren't many movies directed by women have a guide to at least a handful — though if they're feeling ambitious, there are plenty more. 
A United Kingdom
Director: Amma Asante
Release date: Feb. 10
Belle director Asante directed her third feature in A United Kingdom, which is getting an out-of-Oscar season release date not befitting its pedigree (or its reviews). Awards voters will have to remember the tale of Seretse Khama (David Oyelowo) and Ruth Williams Khama (Rosamund Pike) for a bit longer than other films on this list.
Everything, Everything
Director: Stella Meghie
Release date: May 19
Meghie's directorial debut, Jean of the Joneses, was a total delight when it played the South by Southwest Film Festival in 2016. While that film failed to get a substantial release, being picked up by smaller distributor TV One, Meghie's adaptation of Nicola Yoon's debut novel Everything, Everything, starring Amandla Stenberg, is getting a larger welcome.
Wonder Woman
Director: Patty Jenkins
Release date: June 2
It's true: Superhero films aren't usually beloved by the Oscars in top categories. (Just ask Christopher Nolan.) But the technical categories are often filled by the stunt-heavy, visual effects-filled films by DC and Marvel. If as bad a film as Suicide Squad can become an Oscar nominee, we can only hope that Jenkins' much better-looking take on Wonder Woman can do the same.
The Beguiled
Director: Sofia Coppola
Release date: June 23
Coppola is one of the four women to be nominated for the best director Oscar; the only winner, Kathryn Bigelow, is also on this list. To have new films from the two of them in the same year is exciting — but what kind of Coppola film will we get in The Beguiled? Will it be dreamy-but-aimless like Somewhere, or cuttingly smart like The Bling Ring?
Untitled Detroit project
Director: Kathryn Bigelow
Release date: Aug. 4
Bigelow's third movie with writer Mark Boal will complete an informal trilogy that started with her best picture Oscar-winning The Hurt Locker. Will her film about Detroit be able to match that film's critical success — or Zero Dark Thirty's box office?
Beach Rats
Director: Eliza Hittman
Release date: TBA
At Sundance, Call Me by Your Name took up much of the room for queer cinema. Will writer/director Hittman's grittier film Beach Rats find a place in Oscar season? Or will it be crowded out by Luca Guadagnino's showier movie?
Mudbound
Director: Dee Rees
Release date: TBA
Bessie director Rees' post-World War II film about race relations in Mississippi was Netflix's big get at Sundance. Now, Mudbound will be faced with a challenge Beasts of No Nation couldn't overcome for the streaming service: becoming their first Oscar player.