New England Patriots' Dont'a Hightower won't be visiting Donald Trump's White House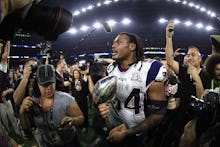 On Wednesday, New England Patriots defensive end Dont'a Hightower became the third member of his team to bow out of the traditional NFL champions' visit to the White House.
"Been there, done that," Hightower told ESPN. The 26-year-old went to the White House twice as a member of the NCAA championship-winning Alabama Crimson Tide football team, but skipped the Patriots' visit in 2014. All three visits occurred while Barack Obama was president.
Hightower's decision to pass on this year's visit isn't an explicit protest, but it marks his first opportunity to make the trip while Donald Trump is president. The prospect of celebrating in Trump's White House has been far less appealing for some of his teammates. Both Martellus Bennett and Devin McCourty have announced they'll be skipping the visit as a form of protest.
"I'm not going to the White House," McCourty told Time in a text message Monday. "Basic reason for me is I don't feel accepted in the White House. With the president having so many strong opinions and prejudices I believe certain people might feel accepted there while others won't."
According to Sporting News, Patriots running back James White — who is also black — is on the fence about visiting as well, though he didn't say why specifically. "I'll wait 'til the time comes and decide then," White said Tuesday. No other Patriots players have announced that they'll protest the visit.
Ever since it was known that New England would play the Atlanta Falcons in the 51st Super Bowl, the Patriots were seen as a proxy for Trump and the white establishment, while the Falcons came to represent the underdogs and minorities. The three highest-profile white members of the Patriots organization — quarterback Tom Brady, head coach Bill Belichick and team owner Robert Kraft — all have well-documented friendships with Trump.
But the growing string of protests and invitation declines have made it clear that at least some black Patriots players are openly opposed to Trump and his agenda. Whether these protests continue to grow is yet to be seen. But it's clear that the political dimensions of this year's NFL championship aren't going away anytime soon.