This actress just wore a little black dress with a big statement for Donald Trump and his travel ban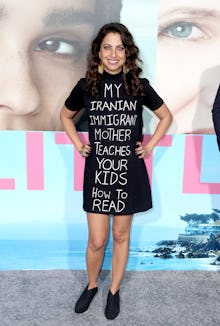 Red carpets have started to get real political as of late. 
Actress Lola Kirke wore a "Fuck Paul Ryan" pin on her dress to the Golden Globes. Actor Simon Helberg walked the SAG Awards red carpet holding a sign that read "Refugees Welcome." Actress Riley Keough wore a "Make America Native Again" hat at Sundance. 
Now another addition to this pack of politically charged red carpet statements is actress Kathreen Khavari, who walked the red carpet for the Los Angeles premiere of her show Big Little Lies in a little black dress with a big statement for Donald Trump regarding his controversial travel ban. 
Across the entire front of her dress, in acrylic paint, it reads: "My Iranian immigrant mother teaches your kids how to read." 
In an Instagram post following the event, Khavari wrote: "Last night's red carpet look brought to you by the threat of a fascist America."
"Thanks to all the friends and family who encouraged the message and look, and to @alanaoyam who first planted the seed in my head to put my platform to good use," she wrote. 
With Khavari's statement, and the idea that this is all about celebrities putting their platform to good use, perhaps the Oscars' red carpet on Feb. 26 is about to get very, very interesting.