Mississippi House GOP passes bill to bring back firing squads and gas chambers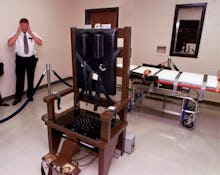 In its short life span, 2017 has given us a number of occasions to wonder what the hell year it is. On Wednesday, Mississippi gave us another: Republicans in the state legislature voted to advance a bill that would make electrocution, firing squad and gas chamber acceptable forms of capital punishment. 
According to the Associated Press, House Bill 638 is intended to protect the death penalty in the state. As it stands, lethal injection is Mississippi's only legal means of execution, but has in recent years come under fire as a "torturous death." HB 638 is, according to the AP, House Republicans' answer to legal taken by "liberal, left-wing radicals."
Yet the controversy around lethal injection is valid. The injection is a cocktail of drugs: one that paralyzes the body, one that stops the heart and, sometimes, one to stop the pain. Getting that cocktail right is a difficult business, one that has led to a number of high-profile and inhumane errors over the past few years. In 2015, for example, Oklahoma used the wrong drug to execute Fredrick Wagner, accidentally injecting him with an embalming chemical while he was still alive. 
States often run into problems procuring the right drugs for the lethal injection cocktail. Increasingly, pharmaceutical companies would prefer to stay out of the controversy surrounding the death penalty, leading states to lean on unreliable compounding pharmacies for their supplies. 
In Mississippi, the U.S. Fifth Circuit Court of Appeals stayed executions in 2012 while it heard arguments against the state's lethal injection protocol. In 2016, the Mississippi Supreme Court allowed death row prisoners to challenge the state's lethal injection method after inmate Charles Ray Crawford filed a lawsuit alleging that compounds in the injection cocktail had not been tested or approved by the Food and Drug Administration.
Mississippi currently has 47 death row inmates. While 33 states authorize death by lethal injection, only eight list electrocution as an acceptable form of capital punishment, just five allow gas chambers and only two — Oklahoma and Utah — still use firing squads. 
HB 638 did not pass the House unopposed. According to the AP, Democrats raised questions over how long inmates would be made to suffer under each of the proposed methods. Attorney Jim Craig, who represents Crawford in his case against Mississippi, told the AP that all three of the prospective methods would face challenges in court. 
"Every single one, in essence, just injects a whole new series of issues in the existing case," Craig said. 
Use of the death penalty may be on the decline nationwide, but Mississippi's governor, Phil Bryant, supports it. Should the bill pass, Mississippi would revert to execution methods it used in the 1950s. Two steps forward, 20 steps back.