How long will Winter Storm Niko last? Here's what to expect as snow slams Northeast.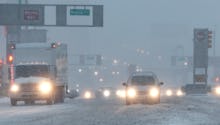 Much of the Northeast is hunkering down on Thursday as a massive winter storm batters the region from Pennsylvania to New England. Planes are grounded and schools are canceled in much of the affected area, and in areas with dangerous road conditions and low visibility, drivers are being urged to stay off the roads. 
So when can residents expect the snow to taper off? The answer varies, but in most places, the storm won't last too long.
Pennsylvania, Maryland and Delaware
Snow emergencies are in effect across Pennsylvania on Thursday, and the National Weather Service has issued a winter storm warning for northeastern Maryland, northern Delaware, southeastern Pennsylvania and some of southern New Jersey until 1 p.m. Heavy snow is expected in some areas on Thursday morning, but it will slow by the afternoon. The area is expected to get between 2 to 6 inches in total.
New York, New Jersey and Connecticut 
A winter storm warning is in effect in New York City, southern Connecticut, the Lower Hudson Valley and northeastern New Jersey until 6 p.m. on Thursday, according to a National Weather Service alert. The area is expected to get a total accumulation of 10 to 14 inches of snow. According to NBC New York, the heaviest snowfall is expected between 7 a.m. and 1 p.m. But even after the snow tapers off, conditions may still be dangerous — temperatures are expected to drop into the 20s on Friday, making roads and sidewalks icy.
Massachusetts and Rhode Island
In eastern Massachusetts and Rhode Island, including the cities of Cambridge, Boston and Providence, a winter storm warning will remain in effect until 8 p.m. on Thursday, according to a warning released by the National Weather Service. Heavy snow is expected to continue through the late afternoon before transitioning to lighter showers in the evening. The area is expected to get a total snow accumulation of 12 to 18 inches, and residents are being advised not to travel unless absolutely necessary.