Northeast Snowstorm Update: Storm Niko airport closures and flight cancellations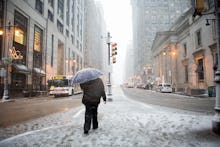 Winter Storm Niko's "near-blizzard conditions" are expected to blanket parts of the Northeast with 10 to 15 inches of snow — more than enough to wreak havoc on air travel plans.
According to Flight Aware, over 1,700 flights have been delayed or canceled in the New York City area. At Newark Liberty International Airport, 20 flights are delayed and over 624 have been canceled; LaGuardia Airport has 657 cancellations and three delays; at John F. Kennedy International Airport, 501 flights have been canceled flights and 69 have been delayed.
The New York City Alerts Twitter account estimates roughly the same number of cancellations, accounting for half of Thursday's flight activity.
Travelers hoping to fly out of Boston or Philadelphia will likely be met with similar disappointment, as Travel Pulse reported flight delays in those Northeastern cities as well. 
Passengers on a Delta flight bound for JFK got a particularly nasty surprise when their plane turned around at Delaware to avoid the storm.
So far, there are no airports have closed entirely, and with major airlines like American Airlines, Delta Air Lines and JetBlue helping passengers reschedule their delayed or canceled flights with no additional fees, you might be able to salvage your tropical vacation yet.
Feb. 9, 2017, 10:27 a.m. Eastern: This story has been updated.