Kellyanne Conway gives Ivanka Trump's Nordstrom clothing line a "free commercial"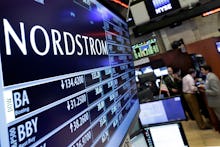 White House adviser Kellyanne Conway stuck up for the boss daughter during a TV appearance Thursday, urging the public to "go buy Ivanka's stuff" a day after President Donald Trump tangled with Nordstrom for dumping his daughter's clothing line.
"I hate shopping; I'm going to get some myself today," Conway said during an appearance on Fox & Friends, adding that she was "going to give it a free commercial here."
The question is: Did Conway inappropriately use her position or government resources to give Ivanka Trump's business a boost?
Nordstrom reportedly plans to stop carrying Ivanka Trump's line of womenswear due to flagging sales. 
That news prompted Trump to tweet his rage at the retailer, which immediately raised questions about whether he was inappropriately using the presidency to advance his child's business interests — and instead saw a 5% jump in Nordstrom stock.
Conway's push for the Ivanka Trump line similarly sparked questions about whether she'd run afoul of federal ethics laws that prevent government officials from using a public office to endorse products or promote the financial gain of friends or relatives.
The White House didn't immediately respond to a request for comment.
Later Thursday, during the daily press briefing, White House Secretary Sean Spicer offered a terse response to a question about whether Conway had crossed an ethical line, saying she'd been "counseled" on the matter:
Rep. Mark Pocan of Wisconsin, a member of the Progressive Caucus, was among the lawmakers and outside groups sounding an alarm about Conway's sales pitch.
"I'm circulating a letter urging Chaffetz to probe Kellyanne Conway for ethics violations after promoting Ivanka Trump's products on live TV," Pocan tweeted, referring to Utah Republican Rep. Jason Chaffetz, chairman of the House Committee on Oversight and Government Reform.
Also Thursday, nonprofit watchdog group Citizens for Responsibility and Ethics in Washington filed a complaint about Conway with the federal government and asked for an investigation.
"The law is clear that public officials should not use their offices for their own private gain or the private gain of others. It's hard to find a clearer case of that kind of misuse of office than we saw today," CREW executive director Noah Bookbinder said in a statement accompanying the letter to the Office of Government Ethics.
"Americans are unfortunately at the point where they have to question who the Trump administration is looking out for, the American people or the Trump family," he said.
2:26p.m.: This story has been updated.