'Fifty Shades Darker' Movie: Who is Elena? 5 things to know about "Mrs. Robinson"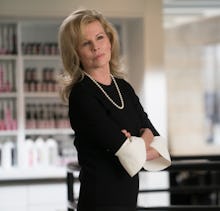 Fifty Shades Darker is the Valentine's Day movie to catch this year, at least for fans of the book and movie franchise. Chances are if you're reading this, you're at least a little curious about the latest installment in this guilty pleasure sex-a-thon. (Critics were not kind to Fifty Shades of Grey, but maybe that just means they were doing their job.)  
You've probably heard that the second Fifty Shades movie features a so-called "older woman" — a Mrs. Robinson character, if you will. Her name is Elena, and here's what you should know about her:
A mother's friend
Elena is definitely a Mrs. Robinson character. As IBTimes reports, viewers never catch a glimpse of her in Fifty Shades of Grey, but they do learn that Christian Grey had a relationship with Elena when he was a teenager. She was one of his mother's friends, and they didn't just get up to any ole hanky-panky. Their relationship was strictly BDSM (and, as Refinery29 pointed out, there are problems with how both the book and the movie portray this practice).
More than sex
Elena doesn't just have a sexual relationship with Christian — she's also Christian's business partner.
The role of jealousy
Ana doesn't like Elena. In fact, she's the one who gives her the nickname "Mrs. Robinson." You can see some of the friction that takes place between them in the Universal clip below. Cosmopolitan writer Peggy Truong wondered if the movie will show the same high-drama confrontation they have in the book.
Played by Kim Basinger
Kim Basinger of L.A. Confidential (which scored her an Oscar) will be playing the infamous Elena. You might also recognize the actress from 2013's Grudge Match, in which she starred alongside Robert De Niro and Sylvester Stallone. Indie fans might know her from The 11th Hour and 4 Minute Mile, too. According to Entertainment Weekly, Basinger just wrapped up shooting The Nice Guys with Russell Crowe and Ryan Gosling.
No, not Charlize
Confused to hear that Basinger was cast as Elena? That might be because you recall hearing the rumors that Charlize Theron was picked for the role. Per Vanity Fair, that rumor was only ever a rumor. Viewers still get their Oscar-wielding blonde, though.