Frank Ocean is right to boycott the Grammys, they've never cared about black artists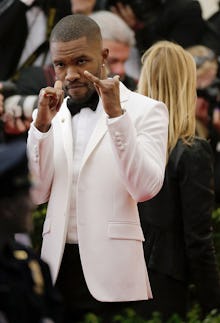 Frank Ocean's Blonde is a great (black) American novel in sonic form. Its deft explorations of love, black pain and the fleeting, unforgiving nature of inspiration will tug at the heartstrings — if a listener lets it. In other words, it's likely an album the Grammys would never understand.
When it comes to recognizing unprecedented musical genius, the Grammys have a terrible track record. When that musical genius is black, it's almost as if they can't tell one person from the other. Rather than subject his four-year opus Blonde to the Grammys confused brand of judgement, Frank Ocean has decided to use this opportunity as his "Colin Kaepernick moment." Others, like Kanye West, seem to have taken up the call.
"That institution certainly has nostalgic importance," Ocean told the New York Times in a November interview. "It just doesn't seem to be representing very well for people who come from where I come from, and hold down what I hold down." He noted in his lifetime he's only seen three black men — Quincy Jones, Herbie Hancock and Ray Charles — earn awards, the latter two both legacy acts who saw their greatest works snubbed years before. 
A look through the annals of Grammy history show they're full of tell-tale moments like this. The Grammys have an issue recognizing black excellence in music, and unless something changes, this will likely continue.
Only 12 out of the 58 album of the year awards the Grammys have given out have gone to black artists, according to a BET count, with three of them going to one man, Stevie Wonder. Additionally, in the song of the year category, 69% of nominees have historically been white men, and since 2000, they've won 53.3% of the time, according to a 2016 Fusion data dive. 
The publication found overall, since the beginning of Grammy history, people of color have won 20% of the major awards, and only 19.6% since the year 2000. Can any music fan honestly say that black people deserve only 20% of the credit for developing popular music, having pioneered blues, jazz, rock 'n' roll, several country styles, funk, soul, R&B and hip-hop?
Looking at the rise of hip-hop helps underscore the case for the Grammys misunderstanding black music. After hip-hop first began charting back in 1979 with songs like "Rapper's Delight" by the Sugar Hill Gang and "Christmas Rappin'" by Kurtis Blow, it took a full decade for the Grammys to honor the artists with a category. Best rap performance was added to the awards ceremony in 1989. It took an additional seven years to add a best rap album. 
But it's not fair to blame the Grammys for lack of foresight — more egregiously, they've consistently awarded hip-hop albums that skew pop or honored white artists making "more palatable" forms of the genre, rather than engaging with it on its own terms. It's present from the very first rap performance Grammy, which awarded DJ Jazzy Jeff & The Fresh Prince's "Parents Just Don't Understand" over LL Cool J's "Going Back to Cali" or NWA's "Straight Outta Compton" two songs released the same year that have proved far more influential. 
It can be seen up through the 2013 Macklemore / Kendrick Lamar debacle with The Heist beating out Lamar's Good Kid m.A.A.d. City, an album already considered a classic among some circles. To this day, only two hip-hop albums have ever won album of the year — Outkast's Speakerboxxx/The Love Below and Lauryn Hill's Miseducation of Lauryn Hill, with the latter being only slightly more hip-hop than an R&B album like Beyoncé's Lemonade, which Rolling Stone is already predicting will lose to Adele's 25.
The best way to figure out how it is the Grammys get it so wrong so often is to take a look at the voting body and its process. Journalist Rob Kenner gave his "bottom line" for why the Grammys turn out so wrong year in and year out in a 2014 piece for Complex: 
The vast majority of the nominations are chosen by people who have little real expertise in a given field ... Famous people tend to get more votes from clueless Academy members, regardless of the quality of their work. This is especially true in specialized categories like reggae and, to a lesser extent, hip-hop, where many voting members of the Recording Academy (who tend to skew older than the demographic for rap music) may not be well acquainted with the best releases in any given year.
When #OscarsSoWhite became a national cultural issue in 2015, one of the first ways the Academy decided to respond was to diversify their voting base. The same could prove beneficial to the Grammys, and having star talent boycott might be one of the better ways to get their attention.
Several black artists have organized boycotts in the past and found their needs addressed. Will Smith boycotted the Grammys in 1989 protesting the lack of representation of rap categories and rap artists during the show. "They don't know anything about rap music," he said of the Grammy voting body, according to ET Online. "Our boycott was to open their eyes to rap music so next year, some rapper will be able to perform at the Grammys and the awards will be televised because the music is large enough and important enough to be on the show." 
The next year, you know what the award show did? Televise some rap awards and have done the same every year since, except 2012 and strangely 2015, despite there being some brilliant nominees in Kendrick Lamar, Drake and Childish Gambino. 
With enough attention it's possible we may start to see these dynamics shift. It's harder and harder to pay attention to mainstream music without hearing hip-hop. So far this year, with the exception of two weeks, black artists from the Weeknd to the Migos have held the title of no. 1 song. As black musicians keep killing it in sales and making their voices heard in critical spheres, change may come — better 60 years late than never.