'Fifty Shades Darker' reviews: What are the critics saying about the '50 Shades' sequel?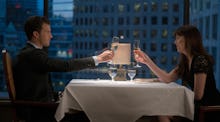 Fans of the Fifty Shades of Grey franchise will get their fix this weekend when the second installment of the film series based on E.L. James' best-selling books hits theaters on Friday.
Fifty Shades of Grey was released in 2015, so the anticipation for the second film in the franchise, Fifty Shades Darker, has been building. The first film was a success at the box-office, taking in $85 million domestically in its opening weekend and earning a total of $571 million worldwide, all on a budget of just $40 million. 
While the film slayed at the box-office, it couldn't win over critics. The film, directed by Sam Taylor-Johnson, earned poor reviews from critics who called it "boring" and not very erotic. Well, the sequel might be an improvement, right? Unfortunately, Fifty Shades Darker isn't fairing any better with critics and is currently earning overwhelming negative reviews – as of this writing, the film currently sits at 10% on Rotten Tomatoes.
We've collected some of the reviews so far for the sequel — good, bad and the ugly — to see what critics are saying about Fifty Shades Darker. 
Alonso Duralde, TheWrap:
It's nice that the two photogenic leads are treating sex like a pleasurable activity rather than an onerous chore in this second entry, but overall, the film plays like an un-asked-for collaboration between the Hallmark and Playboy Channels.
Fred Topel, We Live Entertainment:
...a sequel is automatically more interesting because it's got the history of the first film behind it. 'Fifty Shades Darker'... is dumber because the characters have learned nothing from the first movie and repeat the exact same unhealthy relationship...
Will Ashton, The Playlist:
Actively dull and astoundingly flaccid, the monotonously dreary, everlastingly humdrum BDSM fan fiction franchise can never quite decide if it'd rather be smutty or classy. 
Travis Johnson, FilmInk:
The most perverse thing about 'Fifty Shades Darker' is the notion that anyone anywhere ever thought it was a good idea in the first place.
James Marsh, South China Morning Post:
For anyone who has ever felt the touch of another, the series remains dull, cold and almost endearingly frigid.
Stephen Witty, Newark Star-Ledger: 
What do these two people even see in each other? What ties them together? For a movie about bondage, the stars seem strangely disconnected.
There are some positive reviews, though. Guy Lodge of Variety says it's hard not to enjoy the sequel for what it is: 
For all its structural and psychological deficiencies, it's hard not to enjoy 'Fifty Shades Darker"' on its own lusciously limited terms.
You can see for yourself when Fifty Shades Darker is released this Friday.