Snow Storm February 2017: What to know about Winter Storm Niko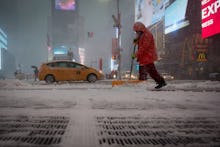 Grab your wooly socks, sofa blanket, space heater and Seamless app: It's time to hole up and wait out Winter Storm Niko.
Up to 18 inches of snow is forecast for parts of New England as Niko pummels away at a considerable swath of the east coast. 
Northern cities close to the Atlantic coast will experience higher snowfall. Boston is forecast to see 12 to 18 inches of snow, with New York City expecting 10 to 14 inches.
Northeastern Maryland, northern Delaware, southeastern Pennsylvania and southern New Jersey will not be as severely impacted, with a winter storm warning only in effect until 1 p.m. Eastern.
In New York City, Southern Connecticut, the Lower Hudson Valley and Northeastern New Jersey, a winter storm warning is in effect until 6 p.m. Eastern on Thursday. Wind speeds in those areas will be up to 25 miles per hour, with gusts as high as 35 miles per hour. At peak parts of the storm, visibility is expected to be under a quarter of a mile. 
For cities farther north, including Boston, the warning is in effect until 8 p.m. Eastern.
All public schools in New York City are closed Thursday, with considerable delays across the NYC subway system. 
The I-95 corridor will be particularly messy, with bus, train and plane delays. AirLive's Twitter account, which tracks airspace and associated services, posted on Thursday morning that 2,800 flights had already been cancelled due to the blizzard. 
Meanwhile, social media has become a flurry of photos and videos of Niko setting in across the Northeast.
Wreaking havoc on transportation? Yes. Providing the perfect conditions for Instagram? Even more yes.