Olympic medalist Ibtihaj Muhammad said she was detained for 2 hours by US customs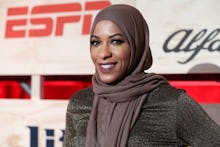 Ibtihaj Muhammad won the bronze medal for the United States at the 2016 Rio Olympic Games, but she's still see faces discrimination at the airport for her faith.
Muhammad, a fencer and the first Muslim American woman to win an Olympic medal, said that U.S. Customs and Border Protection detained her for two hours, culture site PopSugar reported on Thursday. Muhammad said she can't really say for sure if her detention was due to President Donald Trump's Muslim ban. However, the Olympian, who wears the hijab, said she believes she was detained because of her religion.
"I can't tell you why it happened to me, but I know that I'm Muslim," Muhammad told PopSugar. "I have an Arabic name. And even though I represent Team USA and I have that Olympic hardware, it doesn't change how you look and how people perceive you."
This isn't the first time Muhammad faced anti-Muslim discrimination. At the 2016 South by Southwest Festival, she was asked to remove her hijab to receive the event's ID badge. In an August 2016 interview with Rolling Stone, the fencer said she frequently gets profiled at the airport like other Arabs and Muslims.
Despite constant anti-Muslim experiences and encounters, she told PopSugar that she's still hopeful for the marginalized communities in the U.S.
"It was a really hard two hours, but at the same time, I made it home," she said. "I try to remember to be positive and to try to leave all these situations, even if they may be very difficult, with love. I think that we will come out on top as women, as people of color, as Muslims, as transgender people, as people who are part of the disabled community — I think that we'll come out on top."