9-year-old Joe Maldonado is first out transgender child to join Boy Scouts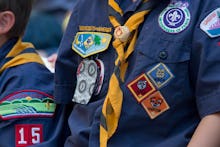 The Boy Scouts of America welcomed its first out transgender scout on Tuesday, after reversing a longtime policy that barred transgender children from its ranks.
Joe Maldonado put on a Cub Scout uniform and joined Pack 20 in Maplewood, New Jersey, according to North Jersey's the Record.
"This is fun. I'm so proud," Maldonado said during the meeting, according to the Record. "I am accepted, and I'm actually in Boy Scouts." 
Maldonado's mom, Kristie, fought back tears as she watched her son participate in his first meeting in Maplewood.
During the meeting, Kyle Hackler, the lead of Maldonado's pack, called Maldonado's presence "historic" and said Maldonado had an "immense amount of courage." Hackler also taught Maldonado the Cub Scouts salute and oath. He said most of his pack's parents were ready to welcome Maldonado and his mother into the organization. 
"This means you're the same as Scouts all over the world," Hackler told Maldonado, according to the Record. Hackler had petitioned the Boy Scouts' Northern New Jersey Council to allow Maldonado to join, which led to them first saying no, then eventually reversing the decision. 
In a statement to Mic, Boy Scouts of America director of communications Effie Delimarkos said the organization will "work to bring the benefits of our programs to as many children, families and communities as possible." 
Mic previously reported that the Boy Scouts banned Maldonado from joining a pack based in Secaucus. Kristie Maldonado said she brought her son to the Maplewood pack instead of Secaucus because she heard many parents had complained about her son's presence. 
"I never would have been able to just drop Joe off there and feel safe," Maldonado told the Record.  "I know there are loving and caring people here."