'Real Housewives of Atlanta' Rumors: Kim Zolciak might return for season 10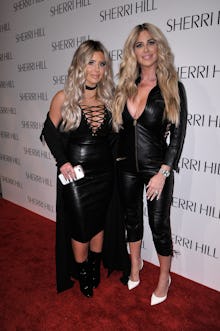 Way back in 2012, during season five of the Real Housewives of Atlanta, Kim Zolciak made a remarkably dramatic exit from the show. She was meeting with the other housewives for lunch, and after telling them she wouldn't be joining them on a trip to the Caribbean — the second time she bailed on a group trip — they lashed out at her. Zolciak ended up running out of the restaurant, breaking the fourth wall by pushing away the camera, and disappearing from the show altogether.
Now, Bravo has released a trailer that shows Zolciak returning to the reality series four seasons after her departure. While it looks as if she's only returning as a guest, if ratings are good enough, the drama palpable enough (which it looks to be), and if Zolciak is down, perhaps we can expect her to come back in a more permanent way. 
Kim Zolciak is back, but is she here to stay?
In the season nine sneak peek, we see Zolciak arrive at Shereé Whitfield's home, known as Chateau Shereé. Her appearance immediately causes tension among the ladies (watch Kandi Burruss' eyes widen), and before we know it, Zolciak is in a full-on feud with Kenya Moore.
"Bitch, you want to be me," Zolciak tells Moore in the trailer. "You want to have a baby, you can't. You want to have a man, you fucking don't. Bye."
Moore goes on to make fun of her "duck lips." 
Given her controversial presence, we know Zolciak makes for good TV, which naturally leads us to wondering if she'll be back full time in season 10. After all, she wouldn't be the first housewife to come back after some time away.
Whitfield returned in season eight after departing when season four wrapped. And in Real Housewives of New York, Bethenny Frankel came back in season seven after leaving at the end of season three.
According to TMZ, Zolciak isn't the only alumnus RHOA producers want to return for the show's 10th season. Apparently they also want to bring back NeNe Leakes, whose on-and-off-again friendship with Zolciak was a highlight from the first few seasons of the series.
Until anything's confirmed though, we're just happy we get to see Zolciak and her wigs — even if it's just for a bit — in season nine.