National Pizza Day 2017: Where to get a cheesy deal on Feb. 9 and beyond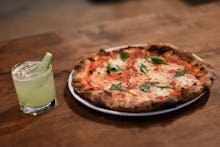 Every day brings yet another completely made-up food holiday, often glorifying some obscure dish. Take National Plum Pudding Day (Feb. 12) or National Chicken Cordon Bleu Day (April 4), for example. Neither feel like a reason to get out the party decor and spend lavishly on... plum pudding ingredients. 
Feb. 9, on the other hand, isn't messing around with the its celebratory food of choice: Pizza. And in honor of National Pizza Day, pizza chains around the country are sharing free pizza and discounted food to help Americans celebrate this beloved national day. Just be glad 2017 is not a leap year — Feb. 29 is, of course, National Frog Legs Day. 
Here's where you can fill up on cheap pizza:
Pizza Hut
Amazon and Pizza Hut have teamed up create National Pizza Week, a celebration and week of discounts running through Feb. 16. The deal: Use an Amazon Echo device to say "Alexa, ask pizza hut to place an order" and get 30% off your total. Your couch basically just became a drive-through. 
Blaze Pizza
If you haven't yet tried the customizable, fired to order personal pizzas at Blaze (yes, it's the Chipotle of pizza chains), today's your day! Take the "Keepin' It Real" pledge (in reference to ingredients, or whatever) with Blaze and get a buy one get one free coupon code to use on their app. 
Domino's
Domino's is also rolling its little anchovy eyes at this National Food Holiday nonsense and declaring #AllDayEveryDay a pizza holiday. Hear, hear! Special deals to enable you to have pizza all day every day include a combo of two items including a medium two-topping pizza, salads and stuffed cheesy breads for $5.99 each, a large three-topping pizza for $7.99 and medium two-topping pan pizzas are $8.99 each. 
Papa John's
The father of takeout pizzas is doing that dad thing where he knows something cool is happening, but doesn't really know what or how to react to it. Luckily for you, Papa John's restaurants are extending the celebration to National Pizza Month, with online code 40PIZZA getting you 40% off large and XL pizza through March 6. 
Little Caesars 
For a limited time only, at participating locations, Little Caesars restaurants are offering a selection of five items, pizza included, for $5 each, plus tax. 
California Pizza Kitchen
To curb your sadness over National Pizza Day ending, CPK will offer its $35 Sweet Deal on Feb. 10 through 14, which gets you an appetizer, two entrees (pizza included), and a dessert, ideally to all split with a special someone, but it's ultimately up to you if you want to share.
Chuck E. Cheese's
If you happen to be visiting a Chuck E. Cheese's location today, this coupon will get you $2 off a large pizza. 
Time for pizza!