The surprising truth behind Tom Hiddleston's "I heart T.S." shirt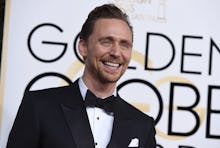 Tom Hiddleston and Taylor Swift's whirlwind relationship was the subject of frenzied press coverage during and after the pair's three-month summer romance. One of the most widely discussed moments took place when the British actor was photographed over the Fourth of July weekend wearing a tank top that read "I ? T.S." He recently discussed the relationship with GQ and explained why he wore the shirt and repeated his claim that the romance was not a publicity stunt. 
Hiddleston and Swift met at the May 2016 Met Ball; a widely circulated video of the two cutting loose on the dance floor was taken during the event. They began dating shortly after Swift announced the end of her relationship with singer/songwriter/DJ Calvin Harris. Soon after, photographs of Hiddleston and Swift kissing on the beach in Rhode Island were published by The Sun. The speed at which Swift embarked on her romance with Hiddleston, as well as the ease with which their public displays of affection were photographed led many to speculate that the pair, who were quickly nicknamed "Hiddleswift," were engaged in a publicity stunt to distract from Swift's ongoing feud with Kayne West. Hiddleston's choice of apparel at the beach that fateful Fourth of July only furthered the speculation.  
Hiddleston told GQ that there was a practical reason for his choice of apparel that day:
The truth is, it was the Fourth of July and a public holiday and we were playing a game and I slipped and hurt my back. And I wanted to protect the graze from the sun and said, "Does anyone have a T-shirt?" And one of her friends said, "I've got this" ... And we all laughed about it. It was a joke.
The attention that the photograph received surprised him — "The tank top became an emblem of this thing" — as well as the public's interest in the relationship itself, which ended after three months. 
"I have to be so psychologically strong about not letting other people's interpretations about my life affect my life," he told GQ. "A relationship exists between two people. We will always know what it was." 
Mic has ongoing coverage of Taylor Swift. Please follow our main Taylor Swift hub.