Native tribe files legal challenge to Dakota Access Pipeline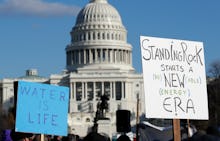 In a last-ditch effort to block construction of the Dakota Access Pipeline, one of the Native American tribes directly affected by construction filed a legal challenge in a federal court on Thursday morning, according to the Associated Press. 
The legal action follows news that acting Secretary of the Army Robert Speer ordered the United States Army Corps of Engineers to complete the $3.8 billion pipeline, despite mass protests from Native peoples whose land and water could be devastated by its construction.
DAPL protesters had declared victory at Standing Rock in December after the U.S. Army Corps of Engineers had rejected permits to finish the pipeline project. 
"We don't often get these victories without bloodshed," Richard Gonzalez, an indigenous veteran, said in an interview with Mic at the time. "We demonstrated to the world that yes, there is a way."
The win seemed to speak to the power of protest and, empowered by what they had accomplished, protesters had already begun planning action against other pipelines across the U.S.
However, President Donald Trump proved just how fragile their victory was when he signed an executive order in January expediting the reviews of the Dakota Access and Keystone XL pipelines. For protesters, it's back to square one.
"People can come — we're going to need it," Lakota activist Chase Ironeyes told Mic. "They fully plan to drill, and we'll need bodies."