Who is Richard Blumenthal? Here's what to know about the senator Trump just attacked on Twitter.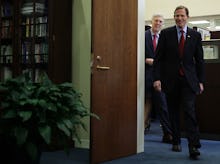 During a private meeting Wednesday, Donald Trump's Supreme Court nominee Neil Gorsuch told Sen. Richard Blumenthal (D-Conn.) the president's attacks on federal judges were "disheartening" and "demoralizing."
Trump blasted Blumenthal in a tweet Thursday morning, accusing the senator of misrepresenting Gorsuch's comments.
But a member of Gorsuch's nomination team confirmed his remarks to NPR's Tamara Keith — and Gorsuch spokesperson Kelly Ayotte confirmed them to Frank Thorp of NBC News.
Here's what to know about the Connecticut Democrat who revealed Blumenthal's statements about Trump:
Blumenthal has been a senator since 2011
Blumenthal was elected to the U.S. Senate in 2011 after having served as Connecticut's attorney general since 1991. 
He defeated former World Wrestling Entertainment CEO Linda McMahon — currently Trump's nominee to lead to the Small Business Administration — to win the seat previously occupied by Chris Dodd. 
Blumenthal currently serves on the Senate Judiciary Committee. 
Blumenthal is regarded as one of the most liberal senators
According to GovTrack, Blumenthal was the ninth-most liberal member of the Senate in 2016. He has also cosponsored more bills (479) than any other senator of either party.
Blumenthal was a Connecticut superdelegate during the 2016 election, during which he was a strong supporter of former Yale Law School classmate Hillary Clinton. 
He participated in the Women's March on Washington the day after Trump's inauguration, which he called "dark and vapid," and has been critical of the president's Cabinet picks. 
Blumenthal has also expressed "serious and deep concerns" about Trump's nomination of Gorsuch to the Supreme Court. He was "disappointed" Gorsuch did not provide more specific answers to his questions about reproductive rights, workers' rights and consumer protection issues, according to CNN, and may fight his confirmation. 
Blumenthal's comments about his military service have been called into question
In his Twitter post, Trump called Blumenthal's honesty into question by referencing a "major lie" about his military service.
In 2010, during his first run for Senate, the New York Times unearthed a 2008 speech in which Blumenthal implied he had served in the Vietnam War when, in fact, he had not.
"We have learned something important since the days that I served in Vietnam," Mr. Blumenthal said during the 2008 speech. "And you exemplify it. Whatever we think about the war, whatever we call it — Afghanistan or Iraq — we owe our military men and women unconditional support."
McMahon, his opponent, took credit for tipping off the Times. 
But Politico reported that Blumenthal correctly characterized his service earlier in the speech, saying he'd "served in the military during the Vietnam era in the Marine Corps," and noting he had consistently spoken accurately of his service in the Marine Corps Reserve.
Blumenthal accepted "full responsibility" for his "misplaced words," and would go on to defeat McMahon 54.2% to 44.2%.