Samantha Bee praises CNN and Jake Tapper's grilling of Kellyanne Conway on 'Full Frontal'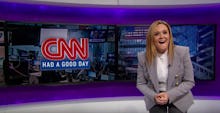 The fact that Samantha Bee's Full Frontal airs just once a week means the host has plenty of news to catch up on and break down in her segments. In these early days of Donald Trump's presidency, it's been an endless shit storm that has most recently included the confirmations of Betsy DeVos as secretary of education — or as Bee calls her, "a sentient bag of hairspray fumes" — and Jeff Sessions as attorney general.
But what most surprised Bee wasn't anything that the Trump administration did. Rather, it was that "CNN had a good day."
How so? It started Tuesday with Jake Tapper grilling Trump administration adviser and "alternative facts" aficionado Kellyanne Conway when she appeared on his show. Bee compared Tapper to a ravenous tiger that hasn't been fed in several days, then aired a clip reel that showed the CNN anchor repeatedly criticizing the White House and Conway for spreading falsehoods. The reel highlighted the many times Tapper used the term "false," which led Bee to make this observation:
"Damn, Jake. I didn't think CNN let you use the f-word on the air." 
CNN's "good day" didn't stop there, however. It also included a health care debate between former presidential candidates Bernie Sanders and Ted Cruz. What's most surprising is that the debate was actually substantive, aside from some awful, if expected, Cruz puns. 
"Comedy kryptonite aside, this event that we expected to be a pointless train wreck actually ended up being a semi-thoughtful debate on the merits and flaws of America's health care system," Bee said. "I can honestly say I would give my left tit to have either one of you wonderful, mansplaining pricks in the White House right now." 
Bee conceded that CNN's momentum couldn't last forever — flashing a photo of anchor Don Lemon on the screen — but was hopeful they can have more good days in the future. "We're just hoping you wake up hungry tomorrow," she concluded. 
Watch the segment below: