Valentine's Day Movies 2017: A guide for what films to see in theaters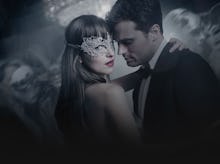 Love is in the air; can you feel it? We are only days away from the most romantic time of the year: Valentine's Day. On Tuesday, Feb. 14, couples, spouses and friends looking for a little bit more, will plan a special night of romance. For some that will include a trip to the movies. 
With Valentine's Day right around the corner, this weekend will see the release of three new movies that are all expected to do pretty good business. Further, there are several films still in theaters that may warrant a trip to the cinemas on Feb. 14. 
Whether you are not yet sure of your Valentine's Day plans, or just want to see what options there are, here is a guide to the movies worth seeing with that special someone (or someones). 
The obvious 
There are certain films that were essentially made for Valentine's Day. They feature two or more leads vying for love, there will probably be kissing (or more) and the end will more often than not be a happy one. While these next few films don't all fit this bill, they are the obvious contenders for your money this Valentine's Day. 
Fifty Shades Darker
Dakota Johnson and Jamie Dornan are back as Anastasia Steele and Christian Grey, respectively, in the sequel to 2015's global smash hit, Fifty Shades of Grey, the first installment based on the series of books by E.L. James. Like Fifty Shades of Grey, the sequel, Fifty Shades Darker, is having a hard time pleasing critics. 
Still, the Fifty Shades of Grey films are essentially critic-proof, with the first earning over $500 million worldwide, and Fifty Shades Darker is expected to open to over $100 million globally. Just don't expect Fifty Shades Darker to come anywhere near Fifty Shades of Grey's opening numbers.
La La Land
If you haven't yet seen La La Land, there is no better time than Valentine's Day. The likely front-runner to win the Academy Award for best picture, La La Land, has been nominated for a record-tying 14 Oscars, after winning the most Golden Globes ever.  
Of course, none of those accolades necessarily make it is a movie to see on Valentine's Day. Here is what does: La La Land delivers everything you would want from a romantic trip to the theater. There's a love story, music (a lot of music), dancing and two attractive leads. 
The family options
Sometimes a family just wants to spend time as a family. Rather than flock to the theater alone, why don't you bring along the little ones? Should you decide to do so, there are some quality options for the entire family on Valentine's Day. 
The LEGO Batman Movie
Three years after The LEGO Movie hit theaters, Will Arnett will be reprising his role as arguably the best character from that film: Batman. So far, critics are falling in love with The LEGO Batman Movie, with some even asking whether it could be the greatest movie ever to feature the ionic character.  
While The LEGO Batman Movie is not a love story by any means, much of the plot revolves around Batman and his nemesis the Joker. Obviously you will not be flocking to the theater to see this movie if you want a traditional love story, but it is your best family option without question. 
A Dog's Purpose
A Dog's Purpose is not playing like a family blockbuster, but it has earned over $30 million domestically, while generating solid word-of-mouth and a fantastic Cinemascore. Films about pets normally play well with families, so if you have not yet seen A Dog's Purpose, it may be worth checking out. 
The counter-programming 
What about those out there that are single, are not into love stories or just feel like a different type of movie? Well, there are plenty of solid options for you as well. 
John Wick: Chapter 2
The sequel to 2014's surprise shoot 'em up hit, John Wick, will be released just in time for those that don't want to see a love story on Valentine's Day. So far, the reviews for the film, in which Keanu Reeves returns as the title character, are nearly universally positive. 
If you are looking for a hell of a good time at the theater, and hope to see some mindless action, John Wick: Chapter 2 is probably your best bet. As Chris Nashawaty of Entertainment Weekly says, "The biggest compliment I can think to pay John Wick: Chapter 2 is that I lost track of the body count within the first 15 minutes."
Split
Remember, this section is about counter programming. M. Night Shyamalan's latest film, Split, is a resounding return to form for the director, who has had his share of recent misses (Split, though, is itself not without controversy). 
Split, which has led the box office for three straight weekends, is the first film from Shyamalan to cross $100 million domestically since 2010's The Last Airbender. If you are a fan of Shyamalan's earlier works, you should absolutely check out this film. 
The young lovers
There is another film out there for you lovebirds on Valentine's Day. For those that may not be mature enough yet to see Fifty Shades Darker or La La Land, do not worry, you can still head to the theaters for a Valentine's Day movie. 
The Space Between Us
Hugo's Asa Butterfield and Tomorrowland's Britt Robertson star in this interplanetary adventure that may be perfect for the teen Valentine's Day crowd. While The Space Between Us has generally been dismissed by the critics, the users on Rotten Tomatoes have given the film a much more favorable score. 
Mic has ongoing coverage of Valentine's Day. Please follow our main Valentine's Day hub here.