Rihanna's Grammy snub for album of the year is a disservice to 'Anti,' her best album yet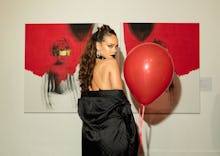 One of the most glaring omissions from the 2017 Grammy nominations is in the category of album of the year. While lesser albums like Adele's 25 and Drake's Views are featured in the category, Rihanna's most cohesive and best release to date, Anti, is missing from the group of nominees.
Anti had some trouble getting off the ground. After three failed starts with initial singles "FourFiveSeconds," "Bitch Better Have My Money" and "American Oxygen" — none of which appear on the album — Rihanna took a minute and came back with "Work," which found itself at No. 1 for nine straight weeks.
After a quick exclusive release on Tidal, Anti went to No. 1 on the Billboard 200 chart and earned solid reviews. With Anti, Rihanna took a turn into something more artsy and left-lane. 
An artist regularly known for her insatiable pop and dance tracks, the bad gal reinvented herself with a more R&B, moody and brooding effort. Unlike her previous albums, which were comprised of mixes of instant radio hits that soared to No. 1, along with filler album tracks, Anti works together as a whole with few missteps. 
Rihanna was known as a singles artist before Anti, but this album changed that. Not only because "Work" has been the only No. 1 song of the singles released so far, but it's her first album that has a true sense of artistry from start to finish. Similar to Beyoncé's Lemonade, Anti may not carry Rihanna's biggest or most memorable singles, but it's a collection of songs that tells a rich story that stays with you long after the first listen. 
If album of the year is about acknowledging the albums that stood out, few are as memorable as Anti. While it may not have had the sales of 25 or the broken records of Views, it is undeniably the better album. 
Anti earned better reviews than either Views or Justin Bieber's Purpose, which are nominations that have us scratching our heads. But it also garnered similarly favorable reviews to Adele's 25, an album that is a mixed bag and has little repeat value. And while Sturgill Simpson's A Sailor's Guide to Earth earned rave reviews from critics, the nomination is the first time most have even heard of the album. 
To be fair, Rihanna is tied with Drake and Kanye West for the second-most nominations this year behind Beyoncé. The album did get a lot of love — but not in the category that matters most. 
With songs like "Needed Me," "Kiss It Better" and "Love on the Brain", she slows it down to get a little more raw. We hear Rihanna like never before; with her voice front and center, she's never sounded better or shown such range. It's an album that reshaped her as an artist — yes, even the Tame Impala cover — and is one of the few efforts from 2016 that is still on repeat.  
Failing to nominate Anti for album of the year is a disservice to Rihanna's best work. With Anti, the singer set herself apart from her peers and her previous self. It works alongside her canon of endless hits, but also stands on its own as a new chapter in her career, proving her longevity and artistry. Remember, she did tell us she was a savage, after all. 
Mic has ongoing Grammy coverage. Follow our main Grammys hub here.