'13th' director of photography Kira Kelly on the film's visual style and its powerful story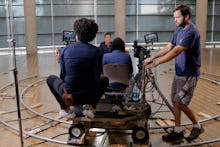 Ava DuVernay's 13th documentary tells the story of America's criminalization and mass incarceration of black people. Keep in mind that this country imprisons a larger percentage of the black population than South Africa did at the zenith of apartheid. 
According to the Center for American Progress, people of color make up 30% of the general U.S. population but 60% of the incarcerated population. And, per the NAACP, nearly 1 million of the incarcerated population are African-American. 
So why are so many prison inmates people of color? DuVernay traces it all back to the 13th Amendment. Hence the name of the documentary, which premiered at the 2016 New York Film Festival before hitting Netflix in the fall. While the 13th Amendment abolished slavery, DuVernay points out in the documentary that it contained a loophole: prisoners. Prisoners could perform labor without pay as punishment for their crimes. When the South saw that the 13th Amendment would wipe out its labor force, the number of black arrests suddenly spiked — and the pattern of incarcerating black people has persisted ever since. 
It's a bold claim in a documentary that will not only challenge viewers intellectually, but emotionally. The challenge comes as much from the words as it does the images. In a phone interview, Kira Kelly, one of the project's two directors of photography, said to Mic that the documentary's visual style reinforces the idea that black labor literally built America.
A look with a message
Kelly said DuVernay was highly selective about the locations used for the documentary's interviews. 
"Ava wanted the locations for the interviews to have an industrial feel, to show work involved," Kelly said. 
Kelly was particularly taken by the location where she shot activist Angela Davis. 
"It was this gorgeous train station, gorgeous because of the level of decay," Kelly said. "It's something that would be hard for our art department to recreate."
A large arch frames Davis in the shot, appearing almost like a throne, as noted in DuVernay's interview with Oprah Winfrey. (That conversation is available for streaming on Netflix.) Kelly particularly appreciated the "huge windows" and "big open space" at that location. 
Kelly shot three other interviews at the train station, which meant getting creative about finding nooks and crannies that were visually distinctive from one another.
"But we had to use the hero background for Angela Davis," Kelly said.
Kelly said the team tried to select locations with "as much bang for your buck" as possible in order to find places that "would elevate the speaker and give them a great background" but "also denote work."
Yet the work did not end at finding industrial locations. The team also had to consider composition, color and other visual elements. Kelly said that she, DuVernay and Hans Charles, the other director of photography, did not want what Kelly calls "traditional talking-head interviews."
"We wanted there to be artful framing to get a certain look," Kelly said. "We wanted to do beautiful portraits and setups of people, but also show the space around them. We had to do that in the compositions."
She believes the interview with scholar Michelle Alexander is a strong example of pushing documentary norms.
"In this interview, there are huge windows with trees and the trees are almost shut out, so there's this sea of gray," Kelly said. "And she's in a very bright red chair, almost like a throne. That use of color is something you [can't always do in documentaries]."
Kelly cites interview with the scholar Henry Louis Gates Jr. as another example.
"For Henry Louis Gates, we shot on a Hollywood soundstage, where OWN [the Oprah Winfrey Network] has their headquarters," Kelly said. "There's a beautiful wooden wall there, but there's also a clear view of the power plant behind it. There's this shot of the sun setting on this electrical plant. That's the kind of background that makes you think of work."
Kelly said she was proud to work on this documentary not only because of the creative opportunities it presented her but its message.
"I'm so proud of this project," Kelly said. "Now that Trump is president, this documentary will be more powerful than when it was released."