White supremacists are celebrating Sessions' confirmation as US attorney general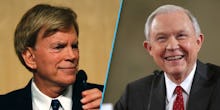 After Sen. Jeff Sessions (R. Ala.) was confirmed as the new United States Attorney General on Wednesday night, white nationalists and members of the alt-right took to Twitter to celebrate what they hope will constitute an ideological victory for their agenda.
"Law & Order, welcome back," tweeted David Duke, the former imperial wizard of the Ku Klux Klan, alongside a picture of Sessions.
Richard Spencer, a central figure to the upstart alt-right movement that draws its values system from a shared well of xenophobia and bigotry, retweeted a more sinister message from white nationalist group VDARE — a photo of the Batman villain Bain, accompanied by the message: "A new era has begun."
For prominent white supremacists, Sessions' confirmation is symbolic: a mainstreaming of the racism and anti-Semitism that fuels their movement.
Sessions is one of the most contested selections to fill out President Donald Trump's cabinet, with a political history steeped in accusations of racism that eventually kept him from accepting a federal judgeship under Ronald Reagan in 1986. For white nationalists in 2017, that history made Sessions just the man to help further their agenda.
On the popular far-right forum GAB, users celebrated the ascendance of an attorney general that they believed would bring back "law and order" by blunting the impact of social justice initiatives, like the Black Lives Matter movement.
"Black Lives Matter, the party is OVER!" one post read. "Congrats Jeff Sessions! Law and order is about to be restored!"
Meanwhile, on the politically similar 8chan message board, one anonymous user gleefully made note of two of the week's events: Sessions swearing-in and the Arizona mother who was deported to her native Mexico.
"Is it possible to die from being too smug?" the user wondered.
"The purge is happening for real now starting today," wrote another.
During Sessions' confirmation hearing, House Republicans made the controversial decision to silence Sen. Elizabeth Warren (D-Mass.) after she attempted to read a 1986 letter penned by Coretta Scott King — civil rights activist and wife of civil rights icon Dr. Martin Luther King Jr., — who opposed Sessions' previous appointment to a federal judgeship.  
Senate Majority Leader Mitch McConnell's justification for the censorship ("She was warned. She was given an explanation. Nevertheless, she persisted.") — was quickly taken up as a rallying cry for the left.