Emma Watson questions our right to privacy in ominous 'The Circle' trailer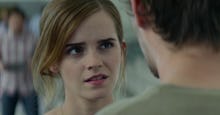 It seems we never tire of movies that are about surveillance, that broach the idea that every single thing we do is being monitored. In The Circle, an upcoming film based on the novel by Dave Eggers, Emma Watson plays Mae, a young woman hired by a massive social media company who comes to learn the consequences of living such an open life. 
A new trailer for the film — which also stars Tom Hanks and Star Wars breakout John Boyega — has dropped, and it looks like it's prepared to answer some serious questions about our right to privacy. 
The trailer and synopsis
Accompanying the trailer is a synopsis of the film, which will be released on April 28, 2017.
When Mae (Emma Watson) is hired to work for the world's largest and most powerful tech and social media company, she sees it as an opportunity of a lifetime. As she rises through the ranks, she is encouraged by the company's founder, Eamon Bailey (Tom Hanks), to engage in a groundbreaking experiment that pushes the boundaries of privacy, ethics and ultimately her personal freedom. Her participation in the experiment, and every decision she makes begin to affect the lives and future of her friends, family and that of humanity.
From the trailer alone, which features a droning voice repeating "we're watching you," we can tell that The Circle gets dark, all the more so as Mae begins to dive deeper into this mysterious and powerful company. The more Mae learns, the more she seems to isolate herself from her outside life. 
Whether or not it ends up being a Snowden-esque cautionary tale remains to be seen, but if the trailer reveals anything it's that we're in for a riveting film about a world not too far off from our own. 
Mic has ongoing Emma Watson coverage. Please follow our main Emma Watson hub here.