9 of the best Netflix movies to watch on a snow day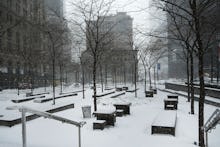 Snow day got you cooped up inside? Posting Instagram photos of the winter storm can only pass so much time, and everyone has to stay entertained. If you don't feel like reading but are in the mood for a movie, then never fear — Netflix is here. There are endless options to choose from, so read on for a curated collection of the best movies to watch until the snow stops and it's time to filter some photos of snow angels in the street. 
The Shining
One of the most well-known horror films — and one of star Jack Nicholson's most chilling performances, this story of a caretaker trapped in an isolated hotel with his wife and child is sure to chill you to the bone. One bit of advice? Don't watch this one by yourself. 
The Princess Bride
This flick is 80's cinema at its best. This movie adaptation of William Goldman's book sparked countless childhood crushes (Cary Elwes was pretty dreamy back then) and added hidden meaning to the words "As you wish" for thousands of hopeless romantics everywhere. And who hasn't quoted Inigo Montoya's oath of revenge at one point or another? 
Spotlight
With President Donald Trump and chief strategist Steve Bannon attacking the media seemingly every day, this Oscar-winning film provides an insightful and necessary look into the behind-the-scenes work at publications and the impact they can have. And the cast, which includes Rachel McAdams, Liev Schreiber, Mark Ruffalo and Brian d'Arcy James, isn't too shabby, either. 
Sunset Boulevard 
Billy Wilder's film noir classic is considered one of the best and most important films ever made. Beginning with its iconic over-the-pool shot to Norma Desmond's unforgettable last line, Sunset Boulevard can be watched again and again. 
E.T.
Steven Spielberg's sci-fi fantasy earned its spot in everyone's heart for its story of childhood innocence and friendship — and for casting an incredibly young and adorable Drew Barrymore. The movie, which has a 98% rating on Rotten Tomatoes, is so popular that it was re-released in theaters for its 20th anniversary. 
Clueless
These days, we could all use a reminder that "it does not say RSVP on the Statue of Liberty!" Plus, the 90's fashions, enormous cell phones and frequent remarks of "As if!" are always worth a trip down memory lane. 
Good Will Hunting 
Propelling Matt Damon and Ben Affleck into the national spotlight and earning Robin Williams an Academy Award after three previous nominations, this Boston-set story of a genius janitor was a surprise hit. It's sweet, inspiring and a perfect choice to keep you warm on a cold day. 
The Blair Witch Project
Considered groundbreaking when it first premiered, this film is now almost a classic. We all know it's fiction and not actual found footage ... right?
To Kill a Mockingbird 
There's never a bad time to pay a visit to Atticus Finch. Harper Lee's book is a classic, and the movie — which was praised in reviews as achieving "a bewitching indication of the excitement and thrill of being a child" — could be especially soothing for news junkies to watch. 
Mic has ongoing movies coverage. Please visit our main movies hub here.