'For Honor' Beta Servers Down? What to do if you can't use Uplay or start your download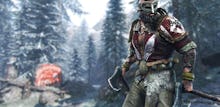 The For Honor open beta is finally here, but you may be having trouble playing the game. You might even be unable to start your download at all. Here's how to find out if Ubisoft's Uplay For Honor servers are down or if you just have a bad connection.
For Honor Beta Servers Down? How to check if Uplay isn't working
There are a few different ways to check if Ubisoft's Uplay servers are working. Is It Down Right Now should have useful info. Down Detector is also a helpful website, with tools for checking recent server issues along with a global outage map.
If you need more info you can also check out the For Honor online forum. You can see if other people are reporting the same issues and commiserate with them. An official announcement on the forum also confirms issues for PC players.
For Honor Beta Servers Down: Twitter reacts
Some players may be enjoying the For Honor open beta, but plenty of others are running into server issues and complaining online. Here's a quick sampling of issues reported on Twitter.
More gaming news and updates
Hungry for more video game news? Check out the latest from Mic, including a recap of the Halo Wars 2 beta, a breakdown of the latest Diablo 3 update, the newest roster addition to Injustice 2 and a closer look at the Pokémon Go Red Scale rumor.