France is building a bulletproof glass wall around the Eiffel Tower to prevent attacks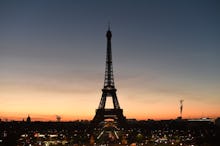 French officials are taking new measures to protect tourists visiting the Eiffel Tower, an attraction that draws some 6 million visitors a year.
According to the Agence France-Presse, the iconic landmark will soon be surrounded by an eight-foot-high wall made of bulletproof glass to prevent individuals or vehicles from "storming the site."
"The terror threat remains high in Paris, and the most vulnerable sites, starting with the Eiffel Tower, must be the object of special security measures," the city's deputy mayor, Jean-Francois Martins, said during a press conference.
The glass wall would replace the metal fences that currently line the perimeter of the tower. The fences were put in place in 2016 in anticipation of France hosting the UEFA European Championship. Martins said the new $21.4 million project would remove the clunky obstruction to give tourists a better view of the monument.
Some critiques of the endeavor say it would turn the Eiffel Tower into a kind of "fortress" and act as a deterrent to tourists who would otherwise be eager to visit the site.
But safety continues to be the utmost concern for a city that suffered its worst terrorist attack in the last decade just two years ago. The memory of the November 2015 Paris attacks, which left 129 dead, continues to keep the city on edge. 
Earlier this month, a French soldier opened fire on a knife-wielding attacker near the Louvre museum, another one of Paris' busiest tourist attractions. Though no one was seriously injured — save for the attacker himself who sustained gunshots to the stomach — the incident served as a reminder of how vulnerable many high-traffic sites are to attack.
At the time, Ministry of the Interior spokesman Pierre-Henry Brandet said the Louvre incident was a "reminder that there is a threat present" in Paris.
And in response to that threat, France will now build a wall.