Petah Tikva Shooting: Gunman arrested, at least 4 wounded in Israeli market attack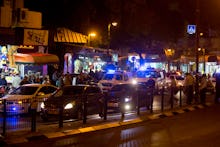 At least four people were injured Thursday when a man opened fire in a market in Petah Tikva, Israel, near Tel Aviv, Reuters reports. CNN reported a total of six injured. The alleged shooter was a 19-year-old Palestinian man from the West Bank, according to CNN, citing information from Israeli police. The gunman is in police custody.
The injuries reportedly were "light or moderate," and CNN reported that none of the injured were in life-threatening condition. One person was reportedly being treated for a stab wound.
Israeli police spokesperson Micky Rosenfeld told Reuters that the gunman used an automatic weapon. "The terrorist was captured," he said. "We're trying to understand how he arrived in the area."
Reuters reports that the Israeli government has blamed Palestinian leadership for a rash of "street attacks" in the region, while the Palestinian Authority, which governs parts of the West Bank, has reportedly cited frustrations over Israel's occupation of Palestinian-claimed territory and "stalled" peace talks as factors in the violence.
This story is breaking and will be updated.
Feb. 9, 2017, 12:20 p.m.:  This story has been updated