Northeast Snowstorm Snow Totals 2017: Here's how much snow NYC, Boston and others got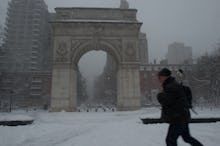 Winter Storm Niko packed a punch when it hit the Northeast Thursday morning and has continued its massive snowfall throughout the day. With schools closed and trains and flights delayed or canceled, the snowfall in many areas in and around New England, where Niko was expected to hit hardest, has actually been even more intense than predicted. 
How much snow did New York City get? 
According to the National Weather Service, Manhattan had received 6 inches of snow by 10:45 a.m., with snow having begun falling shortly after midnight. New York City Office of Emergency Management Commissioner Joe Esposito warned against "blizzard-like conditions" and said the city is likely to see additional rapid snowfall throughout the day, possibly as much as 3 inches an hour. The most current NWS alert forecasts snow accumulations in New York City between 10 and 14 inches. The winter storm warning for the area will remain in effect until 6 p.m. Thursday night. 
How much snow did Boston get? 
At press time, Suffolk County, home to Boston, had received 1.7 inches of snow. But some areas of nearby Franklin County had received up to 12 inches. Boston and other areas in Massachusetts are now expected to get 12 to 18 inches of snow over the course of the day. The winter storm warning will stay in effect until 8 p.m. Thursday. Many people reported thunder snow across the state — which, while possible during heavy snowfall, is a rare occurrence. 
How much snow did other areas get? 
In Philadelphia, as of 11:45 a.m., 2.8 inches of snow had fallen. The area is expected to get somewhere between 3 and 6 inches by Thursday night. Still, the city lifted its snow emergency at noon. 
Providence will be under a winter storm warning until 8 p.m. and could receive between 12 and 18 inches by tonight. As of 1:30 p.m., areas of Rhode Island, including parts of Providence County, had already received 8 inches of snow. 
In some areas on the coast of Rhode Island and Massachusetts, however, residents may potentially see up to 24 inches of snowfall, according to the latest National Weather Service announcement.