'The Crown' Season 2 Theories: How do JFK and Jackie Kennedy work into the plot?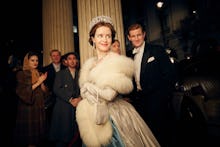 The first season of The Crown was a hit for Netflix — both Claire Foy and John Lithgow picked up Screen Actors Guild awards — and now it's time to focus our gaze on season two of the series, which chronicles the reign of Queen Elizabeth II. 
With production underway, Deadline has announced that Michael C. Hall, best known for his nuanced performance in Dexter, and actress Jodi Balfour have signed on to play President John F. Kennedy and first lady Jackie Kennedy in season two. While we don't yet know how the two American icons will be featured in the series, fortunately, we have history to help us out. 
Introducing the Kennedys
Although we don't know how much or when the Kennedys will appear, we do know where season two starts off. Season two takes us to the '60s, where Queen Elizabeth faces a giant scandal that leaves her losing her third prime minister. 
Also, Deadline has given short descriptions of JFK and Jackie Kennedy, which could help us figure out — at least a bit — how they will be utilized. 
Deadline describes Jackie "as a seemingly natural first lady, but whose charming exterior of confidence and glamour hides a shy woman who loathes public life."
Her husband, on the other hand, is described as "a natural leader and excellent public speaker who does not take kindly to being upstaged by anyone, especially his wife. Although Jackie's accomplishments are perceived to be an asset to the president, JFK feels unmanned by his wife's popularity. In public, he seeks revenge by flaunting his many infidelities and, behind closed doors, his jealousy surfaces in the form of anger and manipulation."
Based on these characterizations, we can assume that the series will give us a behind-the-scenes look at their dysfunctional marriage. And, given that one of JFK's most high profile albeit unconfirmed affair was with Marilyn Monroe, perhaps we'll hear in the coming days that she'll make an appearance on the show as well. 
But, if their appearance will be limited to one or two episodes, our best guess is that these episodes will focus on the Queen's Dinner — where JFK and Jackie were guests at Buckingham Palace on June 5, 1961. Given that season one of the show focused heavily on the dysfunctions on the marriage between Queen Elizabeth and her husband Prince Phillip, it wouldn't be too shocking if we see their marriage juxtaposed to another high-profile, turbulent one. There's nothing quite like a dinner party to see everyone at their most uncomfortable. 
An airdate for season two of The Crown has not been confirmed. 
Mic has ongoing Netflix coverage. Please follow our main Netflix hub here.