Android Wear 2.0 reviews, price, specs and release date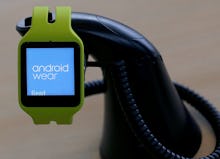 Android Wear is a version of Google's Android operating system that is designed for wearables like smartwatches. The software released in 2014 and received a handful of updates since its debut. On Wednesday, Google announced the successor to its wearable operating system: Android Wear 2.0.
Android Wear 2.0: What's new?
According to a blog post from Android Wear's VP of Engineering, David Singleton, Android Wear 2.0 will give the user "more informative watch faces, better workouts, new ways to use apps, more ways to stay in touch and on-the-go help from the Google Assistant."
Users can now customize their watch's face to showcase information from their favorite apps to best fit their needs. Not only that, but they can select which apps they want on their watch by downloading them directly from the on-watch Google Play Store. "If your watch has a cellular connection, you can make calls and use your watch apps no matter where your phone is," writes Singleton in a blog post.
And, when users receive a message on their watch, they can use the "Smart Reply" feature, which offers response suggestions based on the message received. Or, users can expand the notification to reply through various methods: "dictating, typing or handwriting your answer, or drawing an emoji." This function can be used on Facebook Messenger, Glide, Google Messenger, Hangouts, Telegram and WhatsApp.
The pre-installed fitness app, Google Fit, also offers users more: they can track the "pace, distance, calories burned and heart rate" of their workout and measure weight-lifting reps, push-ups, sit-ups and squats.
Google Assistant, an intelligent personal assistant released by Google in May 2016, will also come with Android Wear 2.0. Available in English and German, Google Assistant lets you make a reservation or check the weather without having to navigate a smartphone or computer.
Android Wear 2.0: Which smartwatches will get updates?
Google announced it collaborated to design two new watches that will come equipped with Android Wear 2.0: the LG Watch Style and the LG Watch Sport. 
The former — available in silver, rose gold and titanium — is lightweight, comfortable to wear and comes with a rotating power button. The LG Watch Style retails for $249. The latter — available in titanium and dark blue — is more powerful. It comes with features like a high performance elastomer strap, GPS for tracking exercise and navigation, a heart rate sensor for your workouts and cellular connectivity. The LG Watch Sport is priced at $349.
Both watches will be available in the U.S. on Feb. 10 and elsewhere around the world (Canada, Russia, Saudi Arabia, South Africa, South Korea, Taiwan, UAE and UK) in the weeks to come.
Google disclosed watches that support Android Wear 2.0 will receive the update in the coming weeks. These include: ASUS ZenWatch 2 & 3, Casio Smart Outdoor Watch, Casio PRO TREK Smart, Fossil Q Founder, Fossil Q Marshal, Fossil Q Wander, Huawei Watch, LG G Watch R, LG Watch Urbane & 2nd Edition LTE, Michael Kors Access Smartwatches, Moto 360 2nd Gen, Moto 360 for Women, Moto 360 Sport, New Balance RunIQ, Nixon Mission, Polar M600 and TAG Heuer Connected.
Android Wear 2.0: What's the verdict?
The general consensus is Android Wear 2.0 is an improvement from the previous software, but nothing great compared to Apple or Samsung's smartwatches.
Engadget says the software is "faster and more intuitive than before" but gives the LG Watch Style a 65 out of 100 on its scale — which falls under the "uninspiring" category — for its poor battery life, inconsistent Android Wear actions and for not being stylish. CNET says, "Wear 2.0 is a lot better than Wear 1.0" but notes the software is a "work in progress." 
The Verge says the software is "simpler and more obvious to use, with less reliance on hard-to-find gestures" but also observes that there are bugs.