Muslim woman denied entry to US from Canada after questions about religion, Donald Trump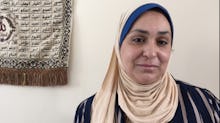 Fadwa Alaoui, a Canadian-Moroccan, was barred from entering the United States after border agents questioned her about Donald Trump, Islam and found videos of prayers on her phone. 
Alaoui, who has lived in Quebec for 20 years, was planning to take a shopping trip to Burlington, Vermont, with her children and her cousin. But those plans were abruptly halted when U.S. border patrol officers detained Alaoui and her cousin for four hours at the border where they were fingerprinted, photographed and interrogated. 
"I felt humiliated, treated as if I was less than nothing. It's as if I wasn't Canadian," Alaoui told CBC news in an interview on Wednesday.
The officers reportedly asked Alaoui, who wears the hijab, and her cousins if they practiced Islam, what mosques they go to, the name of their imam, if they visited the mosque frequently, what conversations go on at their mosque and if their imam ever spoke to them directly. The officers also reportedly asked if Alaoui and her cousin knew any of the victims of the mass shooting at a Quebec City mosque.
The officers then asked what she thought about Trump and her opinions on his policies. 
"I told him, listen, he has the right to do whatever he wants in his country," Alaoui told CBC, recounting her interrogation with one of the officers. "I don't expect that. I'm not following the news. I'm not following what happened. I have a busy life. I have busy schedule with my son, with all these appointments at the hospital, with my kids."
The officers then confiscated Alaoui's and her cousin's phones and asked for its passwords. Alaoui was then asked about videos of prayers in Arabic on her phone. Officers then started asking what these prayers, which friends and family members sent to provide Alaoui with reassurance, meant to her. After the interrogation, an officer then told Alaoui that her family would not be able to enter the U.S. since the officers believed the videos on her phone were against the country.
On Jan. 27, Trump signed an executive order to ban visa holders and refugees from seven Muslim-majority countries. When the order was announced, the U.S. State Department said the ban would apply to dual citizens of Canada, the Huffington Post reported. Subsequently, Canadian Prime Minister Justin Trudeau issued a statement reassuring that dual Canadian citizens will not be turned away at the border. Morocco, where Alaoui was born, is not on the list of countries banned from entering the U.S.
Alaoui said she couldn't find the words to explain the discriminatory treatment that she and her son received at the border.
"I didn't find the words to explain to him," Alaoui said. "I don't want him to feel like we were discriminated because I raise my kids that we are all the same. We are Canadians. Yes, we have different names, but we are all the same. But I couldn't find words to explain to him why."