'Stranger Things' Season 2: Here's everything we know so far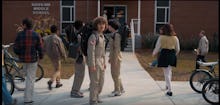 Netflix's Stranger Things was one of the biggest pop culture phenomenons over the summer. But how much fervor surrounds season two? While I was watching the Super Bowl at a bar in New York, people erupted with raucous cheers to the Stranger Things teaser trailer as much as the game itself. 
Unfortunately, we're still a ways away from the second season arriving on Netflix. Until then, here's everything we know about season two so far. 
Prepare for a Halloween binge 
The Super Bowl teaser provided the release date for season two — Oct. 31. It's a bit later in the year after the first season premiered in July, but this is slowly becoming the new normal with prestige television. 
The next season of FX's Atlanta has been delayed, as has HBO's Westworld and Game of Thrones. If it means we're getting a better product as a result of an extended production process, we don't expect anyone will be bothered in the long run. 
Eleven is back, and now has hair 
The teaser trailer also confirmed that Eleven will return in season two. Her affinity for Eggos aside, there was little we learned about Eleven and her mysterious telekinetic powers, which is something the second season will expound on. 
"We do get into her story and backstory," Stranger Things co-creator Matt Duffer said to Entertainment Weekly. "We learn about where she came from and how she came into the world and the program that resulted in her." 
Also, as Entertainment Weekly's newest cover revealed, Eleven is going to have something in season two that we've never seen before: her hair. It's curly. 
New characters are coming 
Several new characters will be introduced in Hawkins, Indiana, for season two. This includes Max, a "tough and confident 13-year-old female whose appearance, behavior and pursuits are more typical of boys than of girls in the era" and her older brother Billy who is an "edgy" teen. 
Plus, Paul Reiser is coming to the show as a member of the Department of Energy (which probably means he's a villain), and Sean Astin will play a love interest for Winona Ryder's Joyce. 
The plot is coming together 
Entertainment Weekly also provided the most comprehensive look at the plot for season two, which coincidentally will start off on Halloween night with the kids dressed up as Ghostbusters. Though Will Byers is out of the Upside Down, the final scene of season one in which he vomits out an interdimensional slug was an ominous sign. 
"He seems to be seeing images from the Upside Down — the question is whether they're real or not," Duffer said to Entertainment Weekly. "So it seems like he's having some sort of post-traumatic stress disorder." 
Meanwhile, Chief Jim Hopper has to keep face as the sheriff of Hawkins and cover up all the paranormal activity that's plagued the town. The kids will also be introduced to the aforementioned Max and Billy. Max may become a new love interest for the kids, while Billy is being portrayed as an antagonist. 
"Stephen King always has really great human villains," Duffer said. "The evil in the real world is often as bad or worse than the supernatural evil, so we wanted to introduce a character like that." 
That's all well and good, but the most important information has to be about Gaten Matarazzo's character Dustin. In season two, he's going to have a "polliwog-like pet" that will presumably come from the Upside Down or some other dimension. We're all about cute interdimensional pets. 
Mic has ongoing Stranger Things coverage. Please follow our main Stranger Things hub here.