7 DC comic book characters that could appear on 'Arrow'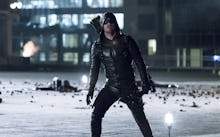 The CW is currently home to four DC television shows — Supergirl, The Flash, Arrow and Legends of Tomorrow — that are all part of an interconnected universe. (iZombie is also from DC but unrelated.) Produced by Greg Berlanti, writers for the shows have combed the DC universe and plucked out both well-known and obscure characters. 
The first series in Berlanti's DC TV universe, Arrow, has included no shortage of popular comic book characters — Ragman, Wild Dog, and Mister Terrific, to name a few from the most recent season. And the series has had no problems pulling villains straight from the pages of the Batman comic — like Deathstroke, Deadshot and Ra's al Ghul. Even characters whose allegiances are less defined like Nyssa al Ghul and Talia al Ghul have come largely from Batman lore.  
Don't think for a second, though, that Arrow has run out of new characters who could appear in the series. DC Comics has a history dating back over eight decades, meaning there are plenty of heroes and villains that can still make an appearance on Arrow. Here are a few that make sense. 
Rick Flag
This is somewhat of an obvious pick for no other reason than that he probably already exists in Arrow's universe. In a season three episode, titled "Suicidal Tendencies," John Diggle is placed in command of a mission featuring Task Force X (known better as the Suicide Squad). Fans of the team of villains (or those that recently saw the movie) know that it is not John Diggle that normally leads Task Force X, but Rick Flag. 
In Arrow, it made sense for Diggle, a former military man, to lead the squad. But in passing, Diggle mentions Rick. While he doesn't use the name Flag, it is likely that this is who he was referring. So, let's just make this official and have Rick Flag show up in some capacity.
Victor Stone/Cyborg
Honestly, it is almost shocking that Victor Stone has not shown up on Arrow in at least some capacity. Should the character ever appear, he would likely make the most sense on The Flash (due to his connection to S.T.A.R. Labs), but that does not mean there couldn't be a role for him to play on Arrow.
For Cyborg to appear on Arrow, his backstory would likely need to be adjusted a bit. In the New 52, Stone's transformation into Cyborg is largely connected to an impending invasion by Darkseid. It is hard to believe Darkseid will ever appear on any of the Arrowverse shows, other than maybe Supergirl, and even that seems unlikely.
Cyborg, though, can have his backstory altered enough to fit within Arrow's relatively grounded world. And should he appear, he could make an interesting recruit for Team Arrow, and possibly, serve as the beginning of a Teen Titans spin-off.
Doctor Fate
This may be a bit of a controversial choice, considering Arrow's fourth season generated some complaints over the prominence of magic, with Stephen Amell himself noting the series should return to no super powers. But Arrow has not completely removed powers, or magic, from ongoing storylines. 
The series has introduced a new Black Canary (who is a metahuman), with the mystical Ragman being one of the earlier recruits. In some form, we may already know that Doctor Fate exists within the Arrowverse. To the extent that NBC's failed Constantine series has been absorbed into that world following Matt Ryan's guest appearance last season, that means that at some point there was a Doctor Fate (his helmet is seen in the Constantine premiere). 
While Doctor Fate likely would not work as a regular character, he could appear with John Constantine in one hell of a one-off episode — maybe even get Zatanna involved? 
Chato Santana/El Diablo 
Considering how many members of the Suicide Squad have appeared on Arrow, one more couldn't hurt. El Diablo's name-recognition is on the rise thanks to 2016's smash hit Suicide Squad. And this is one powered character that would fit within Arrow's narrative. 
In fact, Arrow could stick rather closely to Santana's backstory in the Suicide Squad film. As an ex-gang leader, El Diablo could work very well in the series, which often focuses on street-level crime. Perhaps he could play a one-off villain, or could be released from ARGUS to help with some other issue. Either way, this is one character who could easily appear on Arrow. 
Cheshire
Considering how prominent a role the League of Assassins has played in Arrow, it would only make sense for more members to appear. Even after Nyssa disbanded the League, there must be prominent members still floating around. Cheshire is probably best known for her recurring appearances on Cartoon Network's Young Justice (which was recently renewed for a third season on an unknown network). 
It could actually make sense for Cheshire to appear in a season five episode. Should Arrow borrow some of Cheshire's backstory from Young Justice, she would have a familial relation to Artemis. We haven't seen Artemis since she betrayed Team Arrow, but it would be a whole lot of fun if when she showed up, she was accompanied by Cheshire. 
Black Mask
It is only natural that a villain predominantly associated with Batman would show up on this list. And Black Mask makes perfect sense on Arrow. In fact he is the type of villain that would work extremely well as the main antagonist in a grounded season. 
Normally portrayed as a powerful crime boss, Black Mask does share some similarities to Tobias Church, who was a primary villain in the early parts of Arrow's fifth season. And there is something to say about how effective those early episodes were with a ruthless, non-powered villain, whose identity was not a secret. 
Sinestro 
Granted, this character makes sense in one scenario and one scenario only: to setup a Green Lantern spin-off. But is that such a bad idea? While there have been no shortage of Green Lantern Easter Eggs in Arrow, fans have been told in the past not to expect the character to ever appear. 
Still, if the opportunity arises, and it makes sense, earlier statements likely would play no role in the decision to incorporate the Green Lantern into the series. Should Sinestro ever appear, it would almost certainly be as part of a crossover event. Let's be honest, Team Arrow can't take him on their own. 
Much like the Dominators, Sinestro could pose a large enough threat to require the Green Arrow, Flash, Legends and maybe even Supergirl to team up. Can't you visualize the Green Lantern spin-off?
Mic has ongoing coverage of Arrow. Please follow our main Arrow hub here.