The Trump administration is delaying listing this bumblebee as officially endangered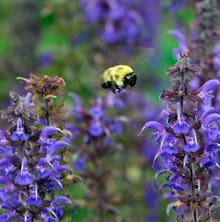 This may sting a bit.
Last month, the rusty patched bumblebee became the very first species of bees in the continental U.S. to be officially marked as "endangered" by the U.S. Fish and Wildlife Service, in a move that one official told CNN would hopefully slow the bee's population decline. 
According to the Associated Press, the new designation was scheduled to go into effect on Friday, until the Trump administration delayed the move one day before. 
The federal government announced the delay, which is in compliance with an order signed by Trump in January. The regulation that would add the rusty patched bumblebee to the endangered species list, guaranteeing it federal protection, will be postponed until March 21 — according to the White House this will allow time for "reviewing questions of fact, law and policy they raise."
For environmental advocates, this move spells disaster for the rusty patched bumblebee, which has been declining in numbers for more than a decade. 
"The Trump administration has put the rusty patched bumblebee back on the path to extinction," Rebecca Riley, a senior attorney for the Natural Resources Defense Council, told the AP. "This bee is one of the most critically endangered species in the country and we can save it — but not if the White House stands in the way."
The species, which lives in 13 U.S. states, has shrunk by 87% since the late 1990s, CNN reported in January. Its population decline could be the result of a number of factors, including climate change and common pesticides. 
Trump's choice to head the Environmental Protection Agency, Scott Pruitt, has acknowledged the existence of climate change but has expressed skepticism about how much of a role humans play in driving it. And the American Farm Bureau Federation, a farm industry lobbying group that "strongly" endorsed Pruitt to head the EPA, has expressed opposition to listing the rusty patched bumblebee as endangered, the AP reported, over fears that it could lead to limits on land and chemical use.