'Girls' season 6, episode 1: There's something about beach sex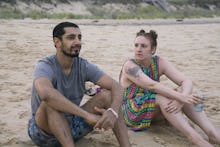 Girls is back — for the last time ever. And given how strongly season five ended, we have pretty high expectations for Lena Dunham and co., who — throughout five seasons — have worked to present the constantly evolving relationship between Hannah, Marnie, Jessa and Shoshana. 
Naturally we expect the series to start wrapping things up, and although it's too early to tell how it'll all conclude, Girls' last first premiere episode, "All I Ever Wanted," gets the ball rolling. 
Hannah, Hannah, Hannah
This is a Hannah episode. Sure, we get a few golden moments of Marnie, who is navigating a new relationship with Ray, and of Shosh, who's gotten over Japan and has secured a new job, but most of the focus is on Hannah. And, we don't really mind it. 
At the end of season five, Hannah found some confidence and got the affirmation she — and as viewers we — needed. She's a writer and someone who will always love to tell stories. 
That's why we felt nostalgic — in an early days of Girls kind of way — when Hannah decides to take on an assignment, given to her by a young Vice-type magazine editor played by comedian Chelsea Peretti (who gives us what we imagine all young and successful magazine editors looks like). Hannah's to go to Montauk, to a surf camp, and write about her experiences there. 
We immediately can tell this won't be her thing. She accidentally puts on someone else's surf gear, forgets to wear a bathing suit, and — perhaps most significantly — finds herself having a brief Hamptons fling with a surf instructor named Paul-Louis, played by The Night Of's Riz Ahmed, who effortlessly bounces from one HBO show to another. (Girls will go down in history for its ability to name characters). Ahmed plays the kind of dude who takes things day by day. He's chill and he wants you to know it.
As expected, Hannah has sex with Paul-Louis. Yet despite knowing it was coming, there's something slightly different about it all — refreshingly so.
Near the end of the episode, Hannah, in her usual type-A manner, wants to know what's next for her and this surf instructor. They've had a lovely time, a lot of sex and throughout the episode we see Hannah genuinely happy in this beach town, away from the city and her dysfunctional friends. 
So when Paul-Louis let's her know that he's in an open relationship, we expect Hannah to freak out, to be angry. And she does, for a bit, but then something happens. She let's go. She decides to let the experience be an experience without trying to prescribe something to it.
This feels new. This feels fresh, and when the episode concludes with a shot of her by a bonfire, all the anxiety that has been built up throughout the episode dissipates. Hannah had a weekend away for a writing project, and she had a good time. 
It may not be the grandest departure for the series — and I'm sure we'll see her take 90 steps back in subsequent episodes — but overall it was a pretty pleasant and innocuous Girls opener, one that substitutes the usual chaos for a kind of peace we all hope to have once we get our shit together.