'Fifty Shades Freed': 6 things to know about the third '50 Shades of Grey' book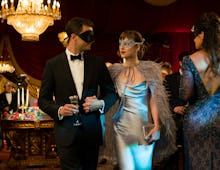 Fifty Shades Darker, the second installment of the sexually charged series, has finally been released. While the film wasn't a hit with critics, it pulled in $46.8 million over its debut weekend. 
Fans of the stormy romance between shy literature student Anastasia Steele and wealthy businessman Christian Grey are already looking forward to the third film in the trilogy, Fifty Shades Freed, which will be released Feb. 9, 2018. 
With one year to go before the movie hits theaters, fans can re-read the book and prep themselves for the third, action-packed installment in the franchise. There are plenty of juicy storylines from the novel for the movie to pull from.
Jack Hyde is back 
Played by Eric Johnson, Anastasia's former boss is determined to get revenge on Christian, be it through Anastasia or someone else Christian loves. He even breaks into their apartment in an attempt to kidnap Ana. 
There's an intense car chase
And, of course, Ana is driving. This leaves control freak Christian, who is always worried about her safety, not happy with this scenario, even if she does park perfectly for the first time in her life. But the thrill of the chase does turn them on. 
Mrs. Robinson is still around
The woman from Christian's past, who first introduced him to "kinky fuckery" and is now his business partner, is still causing trouble, like helping Ana's stalker, her former boss Jack Hyde, continue pursuing her even after he is imprisoned. 
Ana's "inner goddess" is jealous
Ana's "inner goddess" comes out to play when she becomes jealous of an interior decorator flirting with Christian. Ana begins feeling possessive of her husband and imagines her inner goddess wearing a "gladiatrix outfit." (One assumes this is either a female gladiator or a combination of gladiator and a dominatrix.) Noticing that her husband is uncomfortable with the woman's attention, she comes to the rescue of her "knight in distress." 
Ana gets pregnant 
When she shares the news with her husband, he doesn't take it very well. First, he accuses her of forgetting her birth control on purpose and then he expresses fear she'll care about the baby more than him. (He even calls it an "invader.")
Ana pretends to break up with Christian
After Jack kidnaps Christian's sister, Mia, and holds her for ransom, Ana attempts to withdraw millions of dollars from her and Christian's account. The bank manager calls Christian, who thinks his wife is leaving him. Ana lies to protect Christian from interfering in her plan. Shippers, be warned. 
Mic has ongoing Fifty Shades of Grey coverage. Please visit our main Fifty Shades of Grey hub here.