Misty Copeland comes out against Under Armour CEO's pro-Trump statements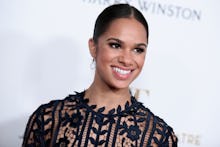 Under Armour CEO Kevin Plank may be excited about Donald Trump's presidency, but famed ballet dancer Misty Copeland — who's starred in iconic Under Armour ads and even collaborated on a collection with the athletic brand — isn't at all thrilled. 
On Thursday, Copeland commented on Plank's pro-Trump statements via an Instagram post. 
"I have always appreciated the great support and platform that Under Armour has given me to represent my community, gender and career on the world stage," Copeland wrote. "However, I strongly disagree with Kevin Plank's recent comments in support of Trump as recently reported."
"Those of you who have supported and followed my career know that the one topic I've never backed away from speaking openly about is the importance of diversity and inclusion," she continued. "It is imperative to me that my partners and sponsors share this belief." 
According to Copeland, she's spoken to Plank herself and wants him — and Under Armour — to clarify their stances so they can continue to work together. 
"I have spoken at length with Kevin privately about the matter, but as someone who takes my responsibility as a role model very seriously, it is important to me that he and UA take public action to clearly communicate and reflect our common values in order for us to effectively continue to work towards our shared goal of trying to motivate ALL people to be their best selves," she concluded. 
Copeland's remarks come one day after fellow Under Armour brand ambassador Stephen Curry issued a powerful anti-Trump statement of his own. Following Plank's assertion that Trump is an "asset" to the country, Curry told the Mercury News, "I agree with that description if you remove the 'et'" from asset.
They also came one hour before Dwayne Johnson, widely known as "the Rock," chose to comment on Plank as well, writing in an Instagram post: "His words were divisive and lacking in perspective. Inadvertently creating a situation where the personal political opinions of UA's partners and its employees were overshadowed by the comments of its CEO."
With brands like Under Armour, L.L. Bean and New Balance coming under fire after employees made pro-Trump statements, it'll be interesting to see if UA responds directly to Copeland, who's no doubt helped raise the profile of the brand. 
Should Under Armour come out against the Trump administration and its policies, it'll join other major athletic brands like Nike and Adidas, who both immediately condemned Trump's immigration ban. 
Feb. 9, 2016, 4:25 p.m.: This story has been updated.