To Gypsy Sport's Rio Uribe, inclusivity isn't just in his brand's DNA, it's fashion's responsibility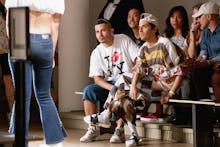 When it comes to organic inclusivity in fashion, Gypsy Sport is both the blueprint and the aspiration. Transgender, plus-size, queer, people of color — this is the DNA of Rio Uribe's brand, a brand whose sensibilities, both in clothing and casting, truly embody the melting pot of New York City. 
As Vogue's Chioma Nnadi once put it, "[Uribe's] hodgepodge of gender-bending sportswear, global nomad, and cool streetwear could only be born of this city."
Uribe, born in Los Angeles' Koreatown neighborhood, worked at both Balenciaga and DKNY before getting a phone call from VFiles founder Julie Anne Quay saying she was looking for young brands for their runway show. The only problem? Uribe, at that point a hatmaker, didn't have a collection. 
Two weeks later, at a time when most designers are putting the final touches on their months-in-development collections, Uribe created his first-ever collection and made his New York Fashion Week debut. The accolades quickly followed.
Now, some five years later, his brand is bigger than ever, attracting a notable following that includes Jaden Smith, Rihanna and Whoopi Goldberg. Why the name Gypsy Sport? "The reason it is Gypsy Sport is because gypsies have historically been persecuted by all nations, so I wanted something that has the feel of 'I'm not accepted everywhere, but I'm happy where I am,'" says Uribe.
Mic caught up with the designer at a meet-and-greet event he was co-hosting with Mac cosmetics and his muse, rapper Cardi B. The pair were giving away 100 custom-designed Gypsy Sport t-shirts to the first 100 customers, all in the lead-up to Uribe's New York Fashion Show on Sunday.
Mic: How do you like like to describe your clothing? Is it unisex? Gender-neutral? Genderless? 
Rio Uribe: I call it global sportswear. People ask me "Is it men's or women's?" and I tell them, "Whoever wants to wear it can wear it." It's that simple.
Do you see Gypsy Sport's eye toward inclusivity being progressive — or is fashion on the whole just lagging?
RU: I look at fashion as being behind. You can't normalize inclusivity. Even on a subway, for instance. Everyone on a subway should be able to be a part of fashion. When I got the opportunity to create my brand I was like, "I'm not from the fashion industry, I'm a Mexican kid, gay, single family home. New York is not going to have me." I knew it already. But when it actually happened, I wanted to use my brand to bring in different shades, different sizes, different colors of people to give them a chance to walk on a runway, to interact with folks like Anna Wintour. Those kind of things are at my fingertips, so I think of it as, "Here guys, let's play."
In our fraught political climate, does a name like Gypsy Sport take on any greater meeting?
RU: I hope it does for others. For me, it's the same shit, hasn't changed for me. The outside is changing because people are realize wow we're in a fucked up world, we have this president who doesn't give a shit about us, and we have to stick together now. So I feel like now, more than anything, Gypsy Sport is about sticking together, unity, inclusion, rolling harder, strength in numbers, fuck the government. If i could put that on my T-shirts, maybe I would. Maybe I will actually.
Is fashion inherently political? 
RU: Not inherently. I think there's a lot of people who just wear Gap or Nike and there's nothing political abut that. But what's happening now is making people like me, like y'all at Mic, want to speak out more, become a bit more radical, and that's exciting. What's happening now right now in fashion is the perfect way to do whatever the fuck you want.
Does the industry need to speak up more?
RU: Yeah. I think everyone needs to speak up more, honestly. Fashion is just an accessory to what is really happening. Fashion is a way for us to have fun and maybe forget about it, but I think everyone has a responsibility to do what they feel is right. Some people think it's okay to ban others. For me, I've been to all the marches, I've been going to all the protests, and doing castings at those things, trying to bring people with that same mentality into my shoes.
Will your runway feature real-life protestors scouted from marches and rallies?
RU: You'll just have to wait and see.