Border Patrol finds close to 4,000 pounds of weed hidden inside fake plastic limes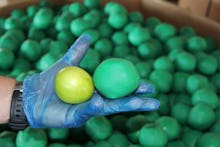 Limes may be the ingredient to killer guacamole, but they're also the center of a recent drug heist gone awry. 
On Jan. 30, U.S. Customs and Border Patrol found almost 4,000 pounds (aka two tons) of marijuana in a commercial shipment of key limes passing through Texas, according to a press release from U.S. Customs and Border Patrol published on Tuesday.
An imaging inspection system and canine team discovered pot was stuffed inside faux limes. Lime-shaped, green bundles of weed were seized by officers. 
This was quite the haul — officers estimated the total price of the weed-stuffed limes was $789,467. 
Hiding narcotics in produce is a popular, albeit ineffective, strategy for drug smugglers. In Jan. 2016, smugglers tried to hide 2,493 pounds of marijuana in a carrot-like packets. And in May 2016, smugglers attempted to use coconuts to hide 1,423 pounds of pot from authorities. They put the weed in the coconut ... and border patrol seized it all up. 
But those coconuts are nothing compared to what one monk tried to smuggle earlier this month. Authorities in Myanmar found a sneaky monk who was trying to smuggle $8 million worth of meth, Mic previously reported. Not very zen, eh?