DJ Khaled announces new album 'Grateful' in press conference, alongside Chance the Rapper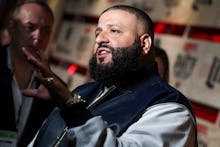 In an Instagram live press conference Thursday, DJ Khaled announced the title of his tenth album, dropping later this year: Grateful.
Wearing an all-pink suit and holding his infant son at the podium in front of a wall of flashing cameras, the mogul and producer swore it will his best work ever.
"The title of my new album coming out this year, my best work ever, on my momma, on my son: Grateful," Khaled said. Standing alongside two of his most recent supporters and advocates, Chance the Rapper and Sean "Diddy" Combs, Khaled explained that the title summed up exactly how he's feeling about life right now. It's the only message he felt he could communicate at this point in time, he said, repeating again and again that he's "all about love."
Chance and Khaled teased the mystery press conference Wednesday, with Khaled posting on Instagram and Chance taking the word to Twitter. 
The livestream itself was a big praise session, including videos of Jamie Foxx and various television personalities heaping on compliments about what a genius and positive influence on the culture Khaled has been. It ran viewers through Khaled's many accomplishments this year, including a No. 1 album and nomination for best rap album in Major Key, a best selling book in The Keys and the birth of his son, who Khaled revealed be "executive producing" the coming album. 
However, Grateful is set to look beyond these momentary trappings of success.
"It's about the evolution of the dream," Diddy said in explaining the piece. "At first it was about the 'keys,'" referring to Khaled's catchphrase and book. "This [album] is about the longevity."
Khaled refused to confirm any of the features on the album, save for seemingly confirming that Chance will appear. He teased the fact they were in the studio together back in January. "I've got Chance the Rapper, he's nominated for like 10 Grammys and shit like that," Khaled said. "He's in high demand right now, let's put it that way."
Only a promotional mastermind like Khaled could have possibly drawn so much star-and-media power into one room just to deliver scant details about an album that's still in the works. But that's Khaled's magic. He can make anything, even the plainest bar of soap, into a magical key on the journey to success.
Mic has ongoing music coverage. Follow our main music hub here.