In the middle of a phone call with Putin, Trump had to take a break for a lesson in nuclear arms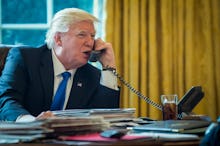 On Jan. 28, just over a week after taking office, President Donald Trump got on his first phone call with Russian President Vladimir Putin. The two presidents — who may or may not know each other, depending on which one of Trump's many, many answers to that question you believe — reportedly had a positive hour-long discussion about improving relations between their two countries.
New details about the call, however, reveal a disturbing move by Trump to rebuff Putin's attempts to extend the latest nuclear arms treaty between the world's two nuclear weapons superpowers. According to Reuters, Putin raised with Trump the possibility of extending New START, a treaty signed by the U.S. and Russia and ratified by the Senate in 2010.
Then Trump, who had apparently never heard of the Obama-era treaty before, had to pause the call, sources told Reuters:
When Putin raised the possibility of extending the 2010 treaty, known as New START, Trump paused to ask his aides in an aside what the treaty was, these sources said.
The treaty pledges both countries to reducing the number of both of the nations' deployed nuclear warheads, and will remain in effect until 2021 — but can be extended by five years with mutual agreement.
In a photograph taken during the call, Trump can be seen speaking on the phone. Present during Trump's call were Vice President Mike Pence, chief strategist Stephen Bannon, National Security Adviser Michael Flynn, Chief of Staff Reince Priebus and press secretary Sean Spicer.
After conferring with his aides, according to Reuters, Trump "denounced" the treaty — and threw in some self-congratulations: 
Trump then told Putin the treaty was one of several bad deals negotiated by the Obama administration, saying that New START favored Russia. Trump also talked about his own popularity, the sources said.
During the 2016 presidential election, Trump incorrectly called New START by the name "Start Up" during a debate. But at least he has been consistent: During the debate, Trump also denounced the treaty, falsely stating that "They create warheads. We can't."
Trump has a record of loose comments about nukes. As a candidate, he would not rule out using nuclear weapons against Western European allies to combat terrorism and reportedly wondered aloud why the U.S. can't use its atomic bombs. As president-elect, he tweeted that the U.S. "must greatly strengthen and expand its nuclear capability."