iPhone 8 concept video with images of iOS 11 features will make you hope these rumors are true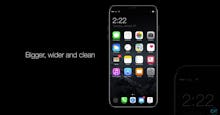 If you skipped Apple's iPhone 7 to hold out for the iPhone 8 release date (likely in September), you'll probably find out in the next few months whether you made the right choice. Get ready for some iPhone 8 leaks — they're surely coming soon.
You've likely heard the iPhone 8 rumors, even before the iPhone 7's launch — features like a size upgrade, edge-to-edge all-screen design, thinner body, 4K-resolution camera (or cameras!) and Touch ID embedded in the display. We might even know the price of the higher-end model. But we still don't have an idea of what the thing will look like. 
Designer Moe Slah created some iPhone 8 mockups with the latest rumored features, and the result is a stunning design video released on the ConceptsiPhone YouTube channel. You might remember them from an iPhone 8 concept video in August that had us drooling like a St. Bernard. 
What sets this video apart, however, is Slah's vision for iOS 11, the next-generation operating system we'll likely see at some point in 2017.
iPhone 8 concept video with rumors and potential iOS 11 features
Let's hope the real thing is as sleek as Slah's concept, which looks more functional and minimal than iOS 10 on the iPhone 7. I love the placement of the Touch ID feature, along with the smaller row of icons on the bottom.
Apple, if you're hiring designers, why not recruit some of these guys? I'd love to see these ideas in action. Especially these sleek transparent notifications — I'm sick of these big, opaque blocks popping up over everything I'm doing. 
Here's that original iPhone 8 mockup video, along with even more concepts to check out. Let the hype train roll.