LeGarrette Blount becomes 3rd New England Patriots player to protest team visit to Trump White House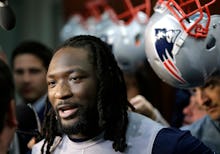 In what is quickly becoming a pattern, New England Patriots running back LeGarrette Blount on Thursday became the third player to protest his team's likely visit to Donald Trump's White House.
"I will not be going to the White House," Blount told sports journalist Rich Eisen. "I don't feel welcome in that house. I'll leave it at that."
It's tradition for championship-winning sports teams to visit the White House to be congratulated by the president after their victories. But a growing number of Patriots players are refusing to go this year. Since the team won the Super Bowl on Sunday, three black players have announced they will not make the trip — although one player, Dont'a Hightower, said he was declining because he's already been to the White House twice. 
The other two players — Martellus Bennett and Devin McCourty — are refusing to go explicitly because of Trump. 
"I'm not going to the White House," McCourty told Time in a text message Monday. "Basic reason for me is I don't feel accepted in the White House. With the president having so many strong opinions and prejudices, I believe certain people might feel accepted there while others won't."
Bennett, for his part, has long been outspoken on social media about his disdain for Trump. On Sunday, he confirmed he wouldn't be visiting the White House with his teammates. 
"It is what it is," Bennett told reporters after the game, according to the Dallas Morning News. "People know how I feel about it."
This growing wave of dissent among black Patriots players has yet to cach on with their white teammates. But the three most prominent white members of the organization — quarterback Tom Brady, head coach Bill Bellichick and team owner Robert Kraft — all have high-profile friendships with the president. In September 2015, Brady was even filmed with Trump's signature "Make America Great Again" hat in his locker.
Bennett and McCourty have both been outspoken about politics before. In October, they demonstrated their support for Colin Kaepernick's national anthem protest by raising their fists while the song played. However, Blount isn't as well-known for his political stances. If he's any indication, disdain for Trump has transcended the most vocal members of the Patriots and has begun to galvanize the others, too.