Amal Clooney and her actor husband are reportedly having twins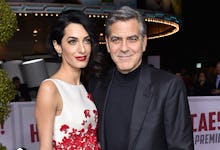 Move over Jay and Bey — yours isn't the only twin game in town. 
Human rights lawyer Amal Clooney and husband George Clooney are expecting twins, Julie Chen confirmed Thursday on CBS' The Talk. 
"Beyoncé is not the only superstar expecting twins," Chen said. "Congratulations are in order for George and Amal Clooney."
Clooney, 39, is an Oxford-educated human rights attorney and activist who's had a high-profile career, representing big-name clients like Julian Assange and taking on a Turkish politician who dismissed the Armenian genocide as a lie. She and actor George Clooney married in September 2014, rocketing her further into the public eye. 
Both she and her husband have also been outspoken about President Donald Trump. Back when he was still a presidential candidate, Amal Clooney — whose background is British and Lebanese — slammed Trump in an interview with the BBC, saying of his comments on Muslims: "When he says 'they,' and you watch the media coverage afterward ... do you mean the 1.5 billion people around the world who fit that description? Do you mean the people who are U.S. citizens who are members of your military, who are the vast majority of whom are not extremists or violent in any way?"
It'll probably be a while before we find out what the two newest Clooneys think about current affairs. According to Chen, the twins are due in June.