A campus Republican group had to apologize for this horrific anti-Semitic valentine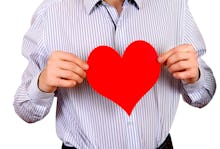 Central Michigan University's College Republicans are under fire after photos surfaced of an anti-Semitic valentine allegedly handed out by one of the group's members.
A student at Central Michigan University received a Valentine's Day package from a member of the campus group containing a card with the message "My love for you burns like 6,000 Jews" on Wednesday. The group is now apologizing — and claiming it isn't responsible for the anti-Semitic card, the Washington Post reported.
The College Republicans at Central Michigan released a statement on the group's Facebook page on Wednesday, saying the valentine was created at a meeting and given out to students without the organization's knowledge. The statement said:
At tonight's College Republican meeting, we had a Valentine's Day party, in which each member decorated a bag and other members placed valentines inside of others' bags. Unfortunately, a very inappropriate card was placed into a bag without other members' knowledge. A bag was then given away to students sitting in Anspach, once again without members' knowledge of its contents. The College Republicans as an organization did not distribute this valentine. We in no way condone this type of rhetoric or anti-Semitism. We apologize for any offense, and want students to know that we do not tolerate this sort of behavior.
According to campus newspaper Central Michigan Life, "One member allegedly printed a page of Valentine's Day memes to cut out and place inside each bag. One meme contained the Holocaust pun." 
That "pun" apparently made it onto a card and then into a students' Valentine's Day bag. 
Mackenzie Flynn, president of the school's College Republicans, told CM Life that a member of the group who "doesn't like candy" gave away his bag, allegedly without knowing there was a hateful message inside.
In a statement released on Thursday, university president George Ross said, "We are deeply disappointed by last night's situation with a Valentine card containing an inappropriate sentiment that was produced during a student organization meeting ... Such hurtful, offensive language, while protected by the First Amendment, is unacceptable and is not consistent with our values and standards."
Anti-Semitic incidents on college campuses are far from rare, however. A 2014 study from Trinity College found that more than 50% of Jewish American college students experienced or witnessed anti-Semitism over the course of the 2013-2014 school year, a number the researchers called "startling."